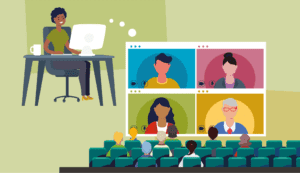 With the tumultuous start of 2021, a slower than expected roll-out of vaccines, and some events staging in-person while other high-profile events cancel or declare they will be virtual well into Q2, event professionals are left wondering, what's next?
Vaccines have offered the largest glimmer of hope for in-person events to return (at some level) in 2021. Like many event professionals and event organizers, I am enamored by the concept of serving and connecting new and more significant audiences. We have imagined normalized revenue with the growth potential. We have been eagerly optimistic about the return to some sort of normal–albeit the new normal.
We have also all heard repeatedly (and I have stated it myself) that hybrid events are the future. But as I have discussed and learned the challenges and opportunities with clients, industry partners, and planning events myself, the hybrid vision we all discussed months ago is far from realistic for most organizations and events (and it's not the technology that will prevent it).
Hybrid events have several definitions and variations. At the core, the goal is making sure both audiences (in-person and online) are engaged and connected (in most cases) simultaneously. Virtual events, by design, only had to serve audiences in one dimension and time. Joining all these disparate audiences while also executing a live, in-person, singular location event is challenging on many levels.
So, before you break one of your professional New Year's Resolutions, hear me out on the considerations and the best approach to hybrid events in 2021.
Hybrid Events  = Many Definitions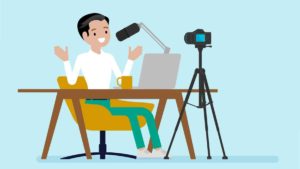 First, it is essential to understand that using the word hybrid to reflect a meeting or event is not as inclusive as one might think. Is the event in one location or many? Will it include audio-only or one and two-way video? Will it be synchronous or asynchronous (meaning audiences may be participating at the same or different times)? Will participants be able to interact with speakers and other audience members? Will that participation be before, during and after the event? Will it all be live, simulive (simulated live), or all recorded or some mix? Will sessions be offered on-demand? With an in-person event following a more typical timeline, how will that impact the virtual audience? The list of questions to consider and logistics is long and suddenly, virtual-only is more straightforward.
Virtual Fatigue
If the increases in travel and corresponding COVID infections of late 2020 are any indication, the desire to get out and travel  is growing. Fortunately, the tools and techniques have gotten exponentially better in the past year to execute virtual events. Our recent study of 1,000 members and staff shared that 44% of those virtual events led to meaningful connections with their association.
But the digital elephant in the room is the growing fatigue of all things virtual. 72% of respondents from a PromoLeaf Study stated overwhelming that they would prefer an in-person conference to a virtual event. Ironically, the first references to virtual event fatigue date back to this article from Forbes from May of 2020! While that doesn't seem that long ago, it represents the sentiment less than two months after the initial COVID-19 lockdowns.
Further fueled by remote work utilizing video features, increases in webinars and even in our daily life with Zoom holidays and birthdays to binge-watching Television, video has become even more prevalent in our pandemic world. Netflix saw its lowest increase in subscribers in four years for Q3 2020 after a record-breaking surge.
We are screened out.
Show Me the Money
For associations we recently polled (link), respondents report that 40% of their association's revenue was garnered from events. This number goes even higher for many associations as dues revenues shrink. Strategy and decisions with regards to events will be directly related to the overall impact they plan on an organization's financial health.
The recently released study by CEIR reported nearly half of virtual events generated gross revenues of less than $250,000 and are a fraction of the gross revenues of in-person physical events. It is no surprise to see these statistics given that the median registration cost (as reported by CEIR) of a virtual event was $200 in 2020.
While some virtual events have succeeded in generating net profit (often attributed to lower execution costs), overall gross revenues remain low. Many organizers have also had to re-strategize on engaging exhibitors as sponsorship dollars have been primary revenue drivers in the educationally-heavy virtual space. Trading in-person dollars for virtual dimes will not be sustainable long-term.
While this does seem to indicate the end of virtual events, I propose that virtual components be used to generate ancillary revenue and support in-person activities (more on that later).
Two Audiences – One Experience
The National F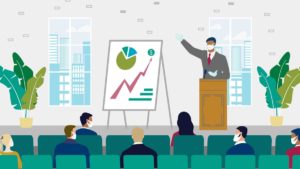 ootball League (NFL) are masters at executing hybrid experiences that fans will pay top dollar for. They have successfully connected virtual and in-person audiences to one event through technology, gamification, social media and professional broadcasters (to name a few). This behind the scenes look from the NFL homepage will give you a sense of what goes into each game-day broadcast. And while there are not officially reported numbers, estimates average production costs alone of a single NFL game at $1 million dollars. Unfortunately, creating this level of seamless and engaging real-time experiences for both audiences is out of reach for most events on staffing capabilities alone.
Many hotel and convention facilities are racing to increase their technology, production capability and bandwidth to "broadcast" from their locations. But as these improvements seem inevitable, the requirements, additional planning, increased staffing and associated costs will be prohibitive for most events and organizations. Some cities also have other labor restrictions and rules regarding broadcasting, further adding to the hybrid complexity.
Lessons from Virtual Events
As we witnessed with virtual events, thoughtful event design, engagement tools, matchmaking, and gamification without supporting event tech made meaningful connections and engaged audiences a challenge.
Creating a hybrid environment with now two very different audiences, one which will be primarily engaging in-person and the others spread out across the world creates additional barriers. For example, organizers had the flexibility to select a time that worked for the majority of the audience for their virtual event. Once a physical location is now introduced, how will an in-person networking happy hour at 6 pm Pacific time in San Diego work with a 10 pm virtual audience in New York? How will the networking take place?  Will those who have invested the resources to travel to be on-site be more interested in those in-person with them and the online audience in the background only connecting with others online? Will these two audiences segregate themselves and defeat the purpose of hybrid?
Two Audiences – Different Reasons
Two groups of attendees will emerge in 2021. The first group will be the virtual only group. They may have one or more following reasons for remaining online in 2021:
Vaccination availability or desire to be vaccinated
Lack of comfort or desire (regardless of vaccination status) to travel or attend events
Inability to secure funding to attend events
Restrictions from employer on traveling or attending events
Only attends certain events now virtually due to costs/travel/restrictions/etc.
The second group will be the blended or in-person group. This group will attend in-person and (based on potential options) also may partake in companion or virtual offerings. Their primary reasons will be one more or the following:
Vaccinated or not deterred by attending in-person events without vaccination
Desire to travel and be in group settings
Employer approval and funding to attend events or travel
Potentially greater importance or interest to meet in-person versus online
So, what should you do?
BIB–Blended–In-Person–Blended (Hybrid Events 2.0)
As organizers plot the journey ahead, I propose a realistic approach to your hybrid events—one that will satisfy all audiences and supports the growth and return to in-person events. A strategy that will put less burden on existing teams and also keep costs reasonable.
In-Person events will be the driver of the virtual experiences surrounding that event and several tools can help facilitate this. Online communities and virtual event platforms will be the most efficient way to start online connections with your speakers, attendees, exhibitors, and sponsors. Virtual meetups, sponsored happy hours, sneak-peaks, product demos, webinars and limited educational sessions will all work to drive interest and registration for the live event. Exclusive content and other limited experiences will be offered to those who have committed to the in-person event or paid for the upcharge virtual experience.
Sponsors and exhibitors will have opportunities to participate (and pay to be a part of the pre-virtual event or be included as an incentive to participate in-person). This blended audience will have both registered to attend in-person and those who select to remain virtual. Some offerings may also be free to entice increase exhibitor/sponsors exposure, collect data and drive registration to either the virtual or in-person experience.
The in-person experience will now be the payoff to the virtual engagement before the event. Attendees will have already started meaningful engagement with other attendees, speakers and more importantly, with your highly valuable exhibitors and sponsors. Conversations will begin with "it's nice to finally meet or see your product in-person" versus "who are you and what do you do?" Since the remote audience will not participate in live time, the pre-event discussions will have given the virtual audience the ability to participate and create relevant questions. Many sessions will be recorded and prepared for the virtual audience post-event. This removes the exhaustive need to live broadcast sessions (with the risks, staffing and associated costs).
Post-event will merge the audiences again and the content will be carefully curated and posted for the virtual attendees to consume (and in-person attendees to watch sessions they were unable to attend – furthering their value as well). Discussions around the sessions and even post-event speaking webinars, sessions, or meet-ups can further connect the two audiences. Both audiences will have a unique experience but ultimately, they will receive similar interactions, connections and content with this model.
Learn More About Hybrid Events
Want to learn more about how you can make hybrid events work for your organization? Join my FREE webinar.