The biggest moments and insights from our recent community webinar.
By: Ashly Stewart, Senior Content Marketing Manager
The conversation was flowing, and the questions kept coming during our webinar, "No Community Manager? No Problem." And it's no wonder why this is such a hot topic! Members are flocking to online communities to make deeper connections, and associations and nonprofits are left wondering how to manage a community with tight budgets and small teams. 
Thankfully, Nicole Hodson, Executive Director at the National Association of Nutrition Professionals (NANP), has found a way to build community without a Community Manager — and is exceeding her goals for member sign-ups.  
Here are some of the biggest insights & takeaways from the webinar.
Only 15% of attendees have a dedicated Community Manager
Recent research has shown that, as the desire for an online community is increasing for members, associations have struggled to keep up with the demand.  
During our webinar's live poll, half the attendees said that they had online communities while the other half hadn't launched one yet.
Only 15% of attendees have a Community Manager on staff. Most attendees who had online communities follow in NANP's footsteps and take the tag-team approach to managing their online space.  
Breaking up with social media groups
Like many organizations, NANP's online community started on social media with private groups on Facebook and LinkedIn. But these platforms became too limiting. Nicole noticed that her members responded well to features like badging that allowed members to indicate certifications they had, and there were growing concerns in the community regarding privacy and data issues.
While there were a lot of reasons why NANP evolved from social media groups as their primary online community, the lack of features and security were a couple of big reasons. 
Board has budget concerns? Lean on the cost-savings of an online community
Nicole had been presenting the idea of a new online community to the board for a while, and even before the pandemic, there wasn't any budget for an improved platform.
But as Nicole started diving into some of the features and use cases of a dedicated community platform, she noticed that there was a huge opportunity to store, organize and collaborate on NANP's documents.  
Nicole realized that a more robust community tool could successfully replace Dropbox so NANP could share and collaborate on documents with the board, staff and its members efficiently.
This change saved NANP $1,600 a year and contributed positively to the budget conversations she had with the board.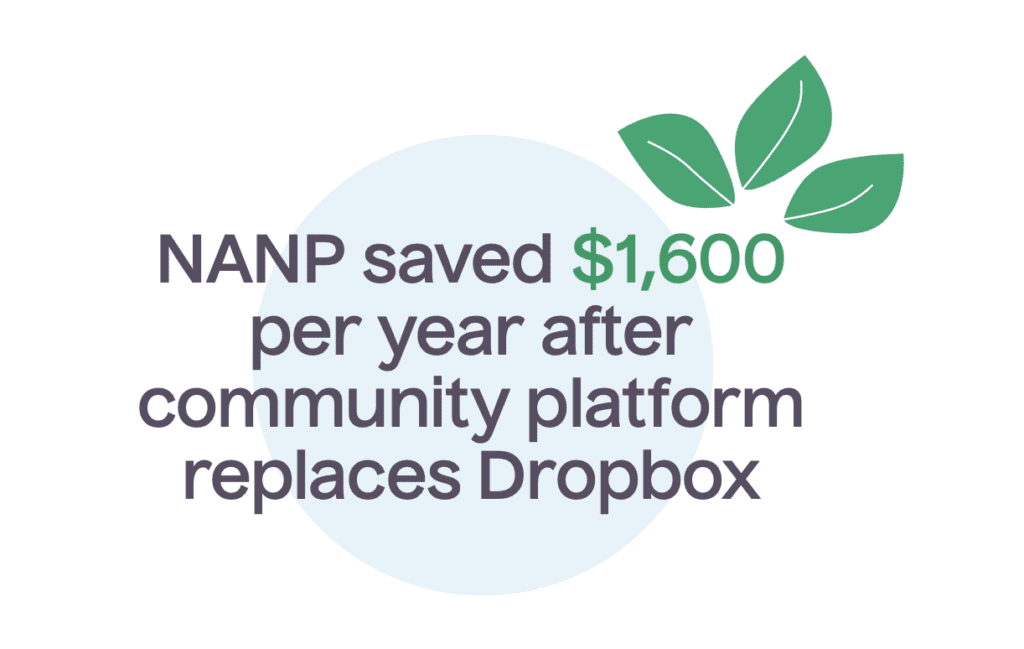 Using existing skills to manage and build community 
The decision to hire or not hire a community manager is unique to each association and its goals. One huge factor is what you see when you look within. Whether it's your own expertise or that of your team, you may find that managing an online community may be doable with your existing skills.  
Of course, even if you find that you and/or your team has the right skills, it often comes down to the issue of the time your team can dedicate to the community. And that's fair!
We've found that it's not unusual for teams to set up online communities and notice that they can save or redirect the time they spend on member communications, engagement and retention by using their online communities as a central hub for their newsletters, events and announcements.
NANP's community dream team was made of Nicole, her marketing manager and a visual designer.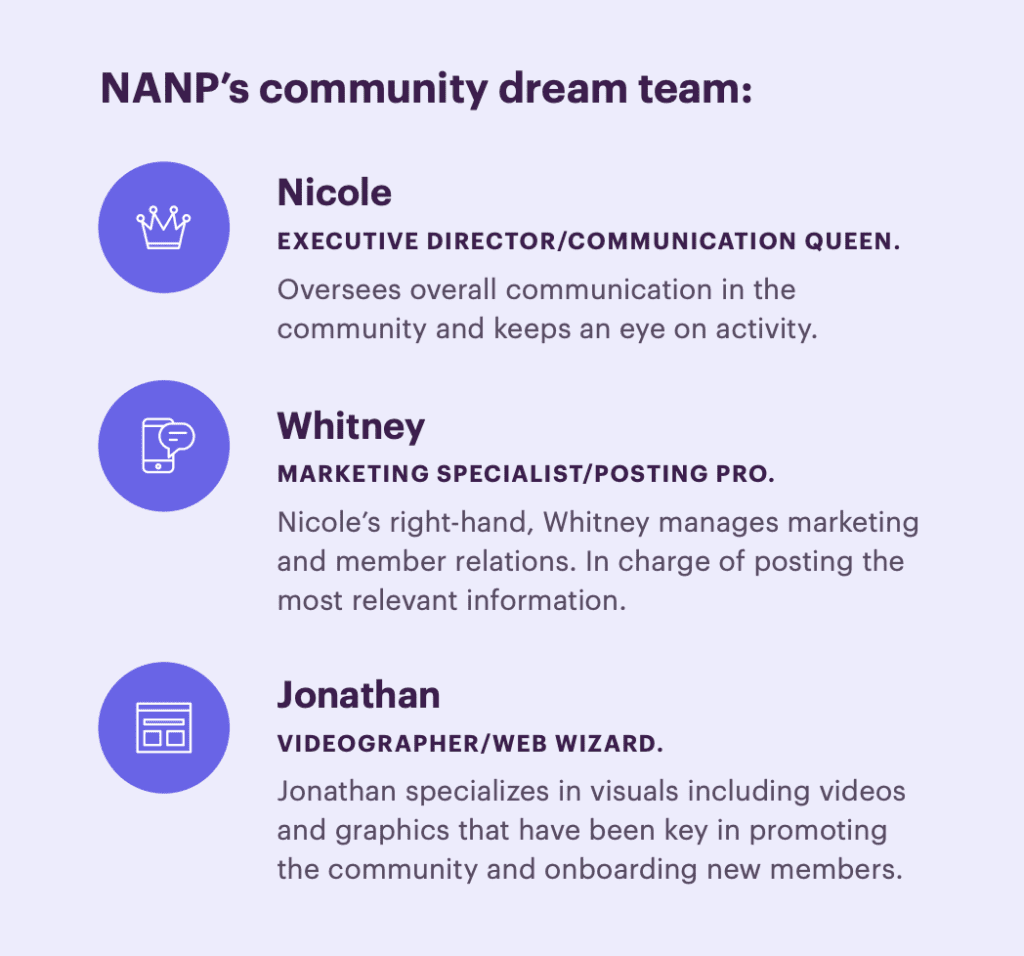 Empowering members to use your online community
It can take time for your members to join and regularly participate in your community, but once they do, it can mean a better experience with your association. And as members start posting their own content, interacting more in discussion forums and helping each other out, it can take some of the workload off your team.  
One of the best ways to encourage new member sign-ups and onboard them to the new online space is by producing a welcome video or a quick tour of the online community.
In fact, NANP credits their onboarding and testimonial videos with helping them reach 1,069 members in the first four months of launching their new online community, exceeding their goals by 22 members. 
Watch the NANP launch video here.
Community guidelines are a must
One of the things on your checklist for starting an online community is to put together your community guidelines. Nicole stressed that, in addition to moving their online community away from social media platforms, writing community guidelines has been the best thing they've done to build trust with their members and create a truly protected space.  
She recommends infusing your mission's values into your community guidelines and to be clear about what's considered acceptable and what behavior is grounds for restricting access to your community.
Watch the on-demand webinar to learn how to build community
Starting or refreshing an online community is a big, strategic decision and a lot of that decision depends on a team's ability to offer a positive, valuable experience to their members using an online space.
If you want more insights from NANP and tips for starting an online community without a Community Manager on staff, stream the webinar today.