Over the last couple of weeks, Personify has been hosting a road show that brought education, connection and fun to New York, Virginia and California. We were so excited to see so many of you in person and have the opportunity to share insights through our keynote, product training, educational sessions and solution showcases.
PersoniTour was three full days of learning and connecting, so in case you missed us, we've got all the highlights from the roadshow.
Create an experience for every persona.
To start a jam-packed day, a panel of industry experts discussed how we should think about our members and what they prioritize. How can we create a curated experience for people when everyone is looking for something different? Looking through the association leader's and events professionals' lens, our panelists had some wonderful insight.
Our communities have evolved, and people aren't signing up for traditional membership or event access the way they used to.​ They choose their organizations and events based on the value they derive from them, so being able to provide that value for all different types of people is key.
The biggest takeaway from the keynote is that we need to reimagine how we create the community experience and base this around our member personas. Some of the member personas we discussed were the curious, but passive community members, mentors and scholars who value giving and receiving information, and more.
With this in mind, our panelists shared the type of persona they identify most with and what different personas could value most from their organization. A big question is how to understand and better serve people of all types and engagement levels. For event professionals, keeping events fun and fresh was vital. Always try something new at your conferences and trade shows.
To wrap up the keynote, our panelists shared their views of 2023 and how to serve unique needs and goals at events and programs. Flexibility is the name of the game for success here. We need to be willing to change things up and listen to our members' feedback. Being able to provide opportunities for everyone to get what they're looking for is crucial. Utilize your technology, people and processes to interact with your members in a way that makes sense for each person's persona.
A special "thank you" to our fabulous panelists:
Elizabeth Spivak, Senior Director of Sales and Sponsorship, World Pet Association
Jeremy Johannesen, CAE, Executive Director, Chief Officers of State Library Agencies, Inc.
Wes Trochlil, Owner & Management Consultant, Effective Database Management
Erin Fuller, FASAE, CAE, President, Association Solutions, MCI USA
Kara Dao, Chief Operating Officer, JDC Events
Megan Denhardt, CAE, DES, President and Founder, Denhardt Productions
Cathy Breden, EVP/COO, International Association of Exhibitions & Events
Kathie Griley, Vice President of Membership, California Restaurant Association
Providing something for everyone.
The theme of PersoniTour was focused on having an experience for each person. Whether you were an event professional, association executive, or marketing membership professional – there was a session to attend. It was great to see everyone so engaged and find something insightful to take back to their team.
For our event folks, we learned the top 10 ways to provide additional value to exhibitors (outside of the booth) with a session on "What do Exhibitors Really Want?" Followed in the afternoon by a session on the 2023 Event Trends & Industry Predictions.
Our marketing and membership professionals experienced an education session on how to accomplish a lot with lean teams in "Work Smarter, Not Harder with a Smaller Staff." A key takeaway from this session was to make sure you cross-train your staff. This will prepare you for the unexpected and benefit your team, decrease workplace fatigue and eliminate workplace silos.
Association executives learned how they should amplify their Association Management Software (AMS) by assessing what's working, what's not and how they can improve. Using an AMS is vital for member-centric organizations and should benefit your members and your team. A highlight from the session was that your AMS should be a hub for everything in your organization and you should be using it to analyze member data. If you haven't done a tech audit of your software to make sure it serves you and your members – it's time.
New and exciting tech for our #EventHeroes.
One thing that PersoniTour brought to the people was a demo of the new GTR technology. This 2022 acquisition for Personify is just the type of tech our event professionals need for their upcoming year of conferences, trade shows and conventions. The GTR technology is a full suite of flexible event technology that supports your team from planning an event to processing the data afterward. Attendees were able to see how easy it was to have attendees print off their name badges and check into their sessions through their QR code scanners. For more information on this new tech check out this blog or the full GTR site.
The reviews are in — and this is what attendees had to say about PersoniTour.
Here is some feedback on PersoniTour that we've seen across social and received via email!
"Take the event to the audience. Personify chose a roadshow format so that busy clients with limited travel budgets were engaged in their own area."
"This was a very valuable day for me, from learning new tricks (and new tools), getting inspiration, sharing solutions with other customers for, and beyond, the platforms and getting to know the team a little closer."
"Sprinkle in the fun. Personify kept it casual with a 1960s peace theme complemented by groovy tie-dyed T-shirts."
"Hearing your ideas and energy around marketing and sales was so refreshing and inspiring. You validated many issues."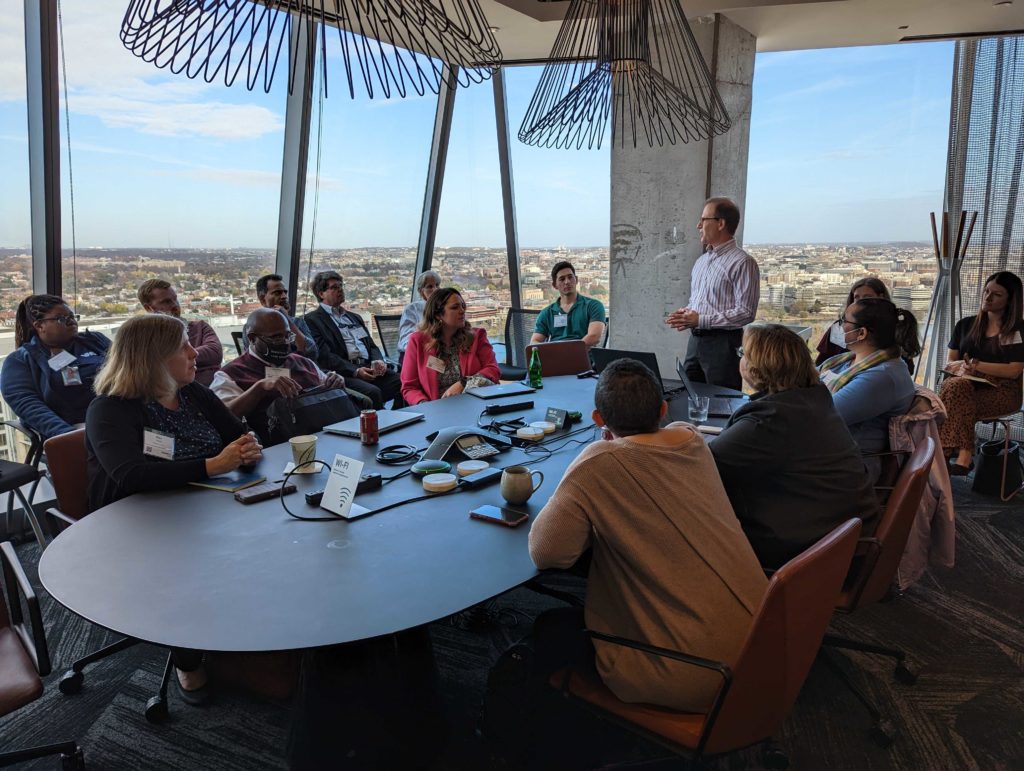 Looking to do more for your members and attendees?
If you missed us at PersoniTour and you're looking for more information on any of the topics we discussed in our sessions, check out our Resource Center for on-demand webinars, blogs, guides and e-books.
Looking to chat with someone about software to help your organization grow? Reach out to us here!