Show appreciation to donors and members after one of the biggest giving events of the year.
By: Ashly Stewart, Content Marketing Manager
GivingTuesday social images? Check. Annual report finalized? Check. Email campaign written and scheduled…almost.  
GivingTuesday is November 30 this year, which means many associations and nonprofits are getting ready to put their yearly campaign into action for a day that's becoming increasingly important to their organizations.  
In fact, trends in Google Search terms around "GivingTuesday," and national giving trends indicate that $3.48 Billion will be raised on GivingTuesday 2021 — a 27% increase over 2020's record-breaking $2.4 Billion. 
But what comes after the big day? How can we possibly begin saying "thank you" to our members and donors who so generously give to our missions, especially after such a rough couple of years?
We're glad you asked. It's something we've been thinking about as part of our Member Appreciation series, and we have a few good ideas for showing appreciation to your community as a follow-up to GivingTuesday.  
4 ways to show gratitude to your community after GivingTuesday 
1. Include real-time impact information in your follow-up emails
With the craziness of the holiday season, some organizations proactively write and schedule their GivingTuesday email campaign, including follow-up emails, in advance. We think that's great! We also think it's a good idea to include information regarding your community's impact on your association and GivingTuesday as the event progresses, even if the early numbers don't seem that significant.  
The most impactful number to share is data related to donations. You can show impact by  saying something like: "$50 dollars has been donated!" or "We've had 5 community members  volunteer their time to next month's fundraiser." But if you're having trouble gathering your organization's real-time contributions, you could also take advantage of the "Impact" section of  GivingTuesday's official website to get some of the latest overall donation numbers.  
So remember to leave a placeholder in your scheduled follow-up emails to include a snapshot of your ongoing impact. Few things make people feel appreciated for their hard work and investment than seeing the difference that they're making.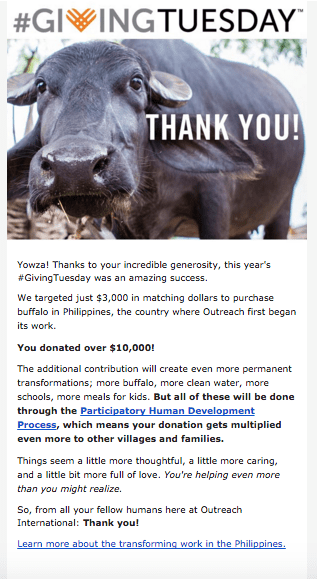 2. Go old school with a follow-up postcard or small thank you gift
Even though email is one of the most popular ways to spread the word about GivingTuesday, people still enjoy an old-fashioned, personal gift. You could send a follow-up postcard to all your members with the impact information or a quick testimonial from someone who's been positively affected by the community's giving.  
You could also consider writing a personalized letter to donors. If you have the time and resources, send a thank-you gift like a Starbucks gift card or a mug or t-shirt with your organization's logo on it to show appreciation. You could even take a tiered approach to send gifts so that people who donated a certain money amount or volunteered for specific events or programs get specific gifts.
3. Send an appreciative video or playlist
Showing appreciation through a hand-written letter or mailed package is delightful, but the digital age means we can send a gift that can be just as meaningful and effective in saying "thanks." Like a letter, the personal touch of video is unmatched when it comes to feeling appreciated.
You can send individual "thank you" videos to specific donors by recording and storing them on free tools like YouTube or using affordable options like Vimeo, and then sending them in an email. You could also record and post social videos on your social platforms to keep your community updated and express your gratitude throughout your entire GivingTuesday campaign. And don't forget to post all videos in your online community or on a dedicated GivingTuesday page on your website.  
And videos aren't the only digital gifts that keep on giving. You can get creative with virtual "thank you" gifts like e-gift cards and playlists that you can post in emails or on social. You could have fun creating your own music playlist or find some that have already been made on Spotify like this one:
4. Send a "special edition" GivingTuesday newsletter
Newsletters are having a moment right now. It's the perfect piece of content for people who like information, but dislike having to spend hours looking for information that they trust and enjoy. This makes newsletters a great vehicle to get members excited about GivingTuesday, communicate the results, and say "thanks" to everyone.  
In addition to the regular news you include in your newsletter, your GivingTuesday issue could include an impact report from last year's GivingTuesday, a fun infographic showing your 2021 donation goals, an article that introduces different efforts donations will help kickstart or improve, and interviews or testimonials from members of the community.  
Since newsletters give you a little more space to thank members, you can list the names of all the people who donated money, their time, and their skills to the organization.
Show member appreciation all year long
With only a couple of weeks until Thanksgiving, it's easy to see the good in others and express gratitude to the people who have been a bright spot in a tough year.
Even though this blog is the last in our member appreciation series, we hope you'll join us in finding ways to thank, engage, and retain your members throughout the year.
Want to thank your most dedicated members and build a stronger community? Check out our online community solution that helps you connect with members at any time, from anywhere.