By Rich Vallaster, Director of MarketingBy Rich Vallaster, DES, CEM, Director, Marketing
"Thank you" was the universal praise from attendees, exhibitors, and sponsors as they convened in Nashville for the 2021 American Society of Landscape Architects Annual  Conference on Landscape Architecture. It had been two years since the group met in person. The excitement was palpable. Besides no aisle carpet, masked staff, and distanced 10 x 10 booths, the show looked much as it has in the past – gorgeous. From large booths with two-story playground equipment erected, outdoor furniture displays to live, full-size trees – the floor had everything for discerning landscape architects (LAs).   
Having attended the show for over five years, I have learned to appreciate how landscape architecture and the LAs that carefully plan, design, and manage experiences impact our daily lives. This was especially true during the pandemic, with outdoor spaces and trails becoming safe havens to play, relax and recreate. While Landscape Architecture goes beyond the natural environments, the annual event showcased the fantastic work that has occurred during the pandemic and the future of a thriving industry.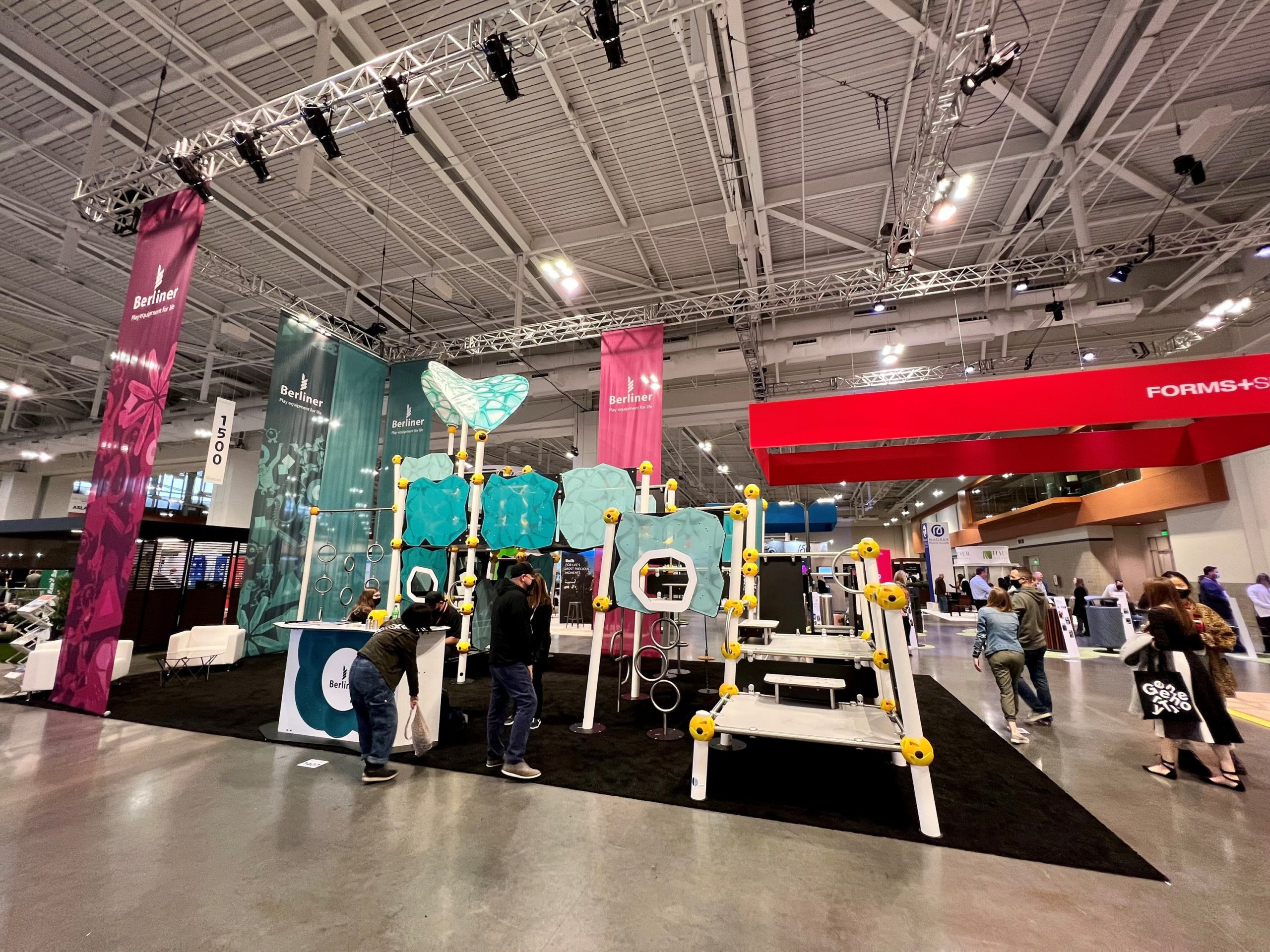 Interactive Education
Most would argue that education and certification have been more easily obtained in the "virtual" world over the past two years. But was it better?
Observing the interactive sessions, hands-on demonstrations, show floor tours, and Nashville as a classroom itself, it was clear that this would never be easily replicated online. As I observed many of these educational opportunities on the show floor, attendees were highly engaged with the speakers and their fellow learners. Without staring at a zoom screen, you could see how the interactions could go deeper and beyond the session. As the virtual world would end after the session, these attendees would wander to their next event, sharing their learnings and making deeper connections. As I talked with attendees – they valued this time so much more than in the past since they took it for granted. They were genuinely thankful to be back in person. 
2022 Rebook
As many event sales team members know, opening rebook for your next year's show is a nervous and exciting time. This is the first time you will get open and honest feedback about how the show is going. Exhibitors arrived an HOUR EARLY to their appointments to book space for 2022.
I dusted off my sales hat, and I was reminded how easily our online contracting solution was. I jumped in to help the team process exhibitor after exhibitor. Not only were they rebooking, but many also wanted an even bigger space in 2022. I couldn't help but ask how it was going and like most of the shows I speak with, while the attendance was down – business was up. These exhibitors were having deeper and more meaningful conversations with those on the floor. The quality of leads and discussions was the reason they were back to secure their space and most shared it well exceeded their expectations. Throughout the entire rebook, companies that had not chosen to exhibit in 2021 were anxious to book for 2022. Unfortunately, they had to wait till after the event and after the price increase. They undoubtedly understood, but the desire to secure space was evident they saw how important it was to be back.
Alumni Tailgate – Future LAs in Action
Once again, the annual event attracted future LAs with student and faculty attendees from over 30 colleges and universities from around the country. Virginia Tech rallied 70 students to attend this year! Starting early on, having students learn that trade shows and conferences are an essential part of their career development is healthy for the industry and beneficial for the trade show.
Each year I have had the distinguished privilege of judging the spirited Alumni Tailgate competition. Unfortunately, our judging uniforms went missing this year, but we improvised (as all good event professionals do).  We judged their tailgate for school spirit, design, and several other categories we felt important to recognize the students for their effort. The top prize included 25 free student registrations for the 2022 event! 
It was no easy task as you could see the enjoyment of students, faculty, alumni, and industry professionals networking once again. Many sang school cheers while others constructed elaborate design projects. The winning team from Arizona State University had worked with exhibitors on the show floor to build out their space with materials in school colors provided by each exhibitor – what a collaboration! It was no easy task as you could see the enjoyment of students, faculty, alumni, and industry professionals networking once again. Many sang school cheers while others constructed elaborate design projects.
COVID Protocols
Since many shows are grappling with the decision process, I wanted to share my experience with the event. As a mask and vaccine required event, attendees were greeted at the door to confirm their daily health check, temperature screening, and pick-up of your sticker showing you had been cleared for their day. I had already submitted my vaccine card with the app so it was smooth sailing every morning. The process was met with little hesitation. Throughout the days, everyone was terrific about masking. While every show and every audience were different, few issues arose out of this. I give credit to ASLA, which communicated expectations to all involved.   
One Team
I make special plans to return year after year to ASLA because while I am a partner and vendor of the organization, I am considered part of the team. My badge says I am on the team. I eat with the team in the staff lounge. I am invited to events as a team member. And I am often tapped with providing insight and recommendations based on my industry experience. We often forget the many partners who make our events truly successful are part of the team. We want to see your success and love to celebrate when we succeed together. That trust and relationships are what make the partnership grow stronger (in good and challenging times). Getting hugs from the ASLA staff and the "RICH – You are back!" from across the hall makes the 6 am flight all worth it. So 
Thank you, ASLA.  See you in San Francisco next year!