Get the top insights from Personify's recent webinar on a few of the biggest tech trends for the new year.
Last week, we set aside our Christmas shopping and cookie baking, and Erin Sullivan, VP of Marketing at Personify, and Ashly Stewart, Marketing Manager at Personify led a fun, forward-looking discussion about the top association tech trends the experts and data are saying will make a major impact in 2023.
During the webinar, we dove into the seven association tech trends that members will benefit from and association staff will find useful. But these trends and conversations stood out as tech tools and strategies that are already on association and nonprofit professionals' minds.
Here are the highlights & most talked-about trends for 2023
1. Recession predictions & preparations
Even though we're being intentional about looking ahead to the new year, it would be a mistake to think we can predict if, when or how a recession will hit. Still, last year taught us to be prepared for anything, and it's widely accepted that there will be some disruption to the economy, even if experts disagree on the scale and severity.
During difficult times for your members, it's important to go directly to them and ask what they need, make it easy for people to ask for and receive help and offer programs and services that align with your members' biggest recession needs, if possible.
Here are a few ideas we talked about:
Create a survey to send to members to ask them what kind of help they need. It could be assistance in paying for bills or groceries, finding more ways to connect with other members or help finding a job. Send and post this survey across all your major channels (emails, social, website, etc.) to gather the most responses.
Make it easy to sign up for help or donate goods or services through special email campaigns, an easy-to-spot "Donate Now" button on your website, social platforms and your online community.
Offer support groups using discussion forums in your online community and organize them based on what people need most.
Consider starting a job board or sending out a weekly newsletter with new jobs and learning opportunities offered by your community.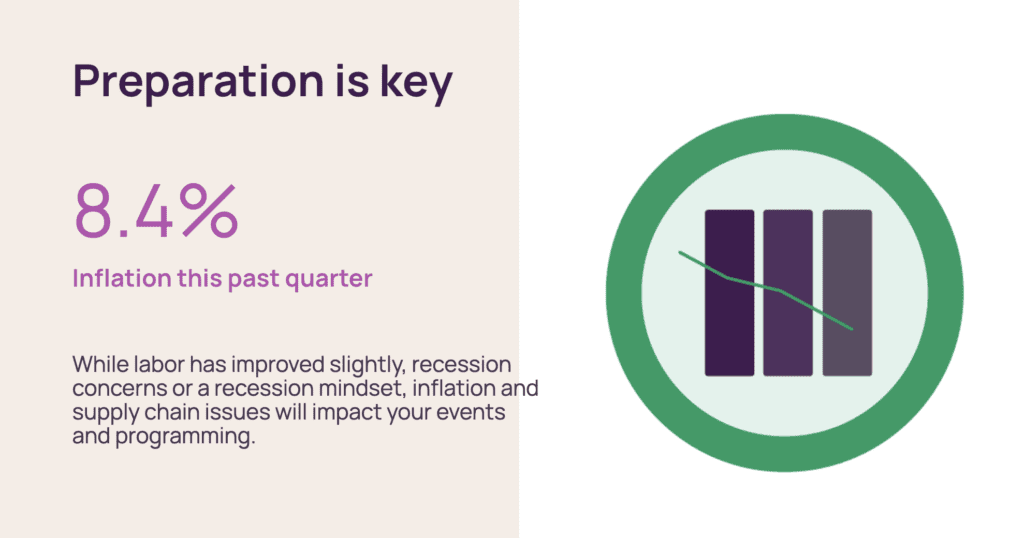 2. Member-empowering technology
When we talk about "member-empowering" technology, we're talking about tech that gives members ownership of their member experience. In the past, many members were content to show up to association events, fundraisers, programs, etc.
And even though you still have member types who enjoy that type of participation with your organization, one of the defining characteristics of the modern member is a high level of engagement and ability to shape their journey with your mission.

To that end, we talked about how tech solutions like online communities and learning management systems are giving members the power to make connections with other members, take learning courses and workshops, job hunt and more on their terms.
From an attendee: A webinar attendee also asked a good question about the role of social media in their association's efforts since their members have said that's their favorite way to interact with the mission and other members.
We talked about how it would be a mistake to ignore members if they have spoken and made it clear that's their preferred communication and connection channel is social. So we talked about the importance of giving members what they wanted while also ensuring they're protected from data hacks and social media takeovers that can make it difficult for organizations to run their profiles they want to run them.
The overall recommendation was to maintain your organization's website, but put your social channels front-and-center with social icons and even social plug-ins that give a preview of your social profiles. You can also find ways to have your website and online communities to mirror the look and feel of your members' favorite channels by adding elements like Newsfeeds, posts and more to give a similar experience to what your members enjoy seeing and using.
3. The new event VIPs
The association world is thrilled to be getting back to in-person events! And as our first in-person events in a couple of years are launched, the industry has been keeping a close pulse on how event attendees have evolved and how our event experiences should evolve as well.
One of the biggest event trends we're seeing seems to be a result of the pandemic, though we were seeing the start of it before 2022 — and that's the rise of young event attendees.
The data seems to show that as remote work became the norm over the past couple of years and The Great Resignation gripped the workforce, young professionals turned to associations and their events as a place to connect, network, learn from peers and experts and find new job opportunities in lieu of a more traditional office setting and culture.
For our new event VIPs, the key will the curating event experiences for them. Traditional event attendees liked to wander the event floors, whereas young members and attendees prefer to have the Netflix-like experience, which can look like sessions recommended to them based on their member profiles, event activations that align with their interests and values and the ease of event mobile apps to have agendas, reminders and more delivered straight to their devices.
Want more 2023 association trends?
If you missed the webinar last week, we got you covered! Click on the button below to access and enjoy the webinar recording, and please reach out if you have any follow-up questions or thoughts.