At Personify, we've built our internship program to ensure talented students from diverse backgrounds gain exposure to our technology, our purpose and our operations. Interns and new graduates will contribute to real projects that make an impact at Personify and in the world. It's an eight-week program where we enrich each intern with the opportunity to build on their skills and education while accessing a ton of feedback and guidance to help them grow into future leaders. We think our PersoniVersity program is pretty special. Each intern is welcomed and quickly becomes a part of the PersoniFam, where they are an integral part of the team and quickly learn a lot. But, you don't need to take our word for it; just ask our interns.
A welcoming atmosphere
When looking for an internship, I wanted to be someplace where I'd have the opportunity to contribute to a purpose and learn.At Personify, I gained so much exposure working across multiple products. And the team was so welcoming and open to questions. – Ashjah Abraham, Support Operations Intern
A view across the SDLC for real world products
I want to work as a software developer in the future, and my internship at Personify has brought me closer to this goal by giving me practical experience. I've gained exposure to every aspect of a software engineering team. I've seen how multiple pieces come together to create a complex product and the importance of automated testing. – Riley Hancox, Software Engineer Intern
Invaluable insights
In just eight weeks at Personify, I gained insights into the backend of data science and why data hygiene is so important. I also had a chance to support sales by providing access to product demos and trials; as well as how to build a business case. This was new to me before starting this internship; it's been a rewarding experience. – Jaden Alphonse, Marketing Data Science Intern
The other side of tech
This was not your typical internship. I appreciate working on real-life projects and problems as part of a software company. My future goal is to become a corporate attorney, and they allowed me to sit in on contract negotiations and policy writing. That was invaluable to me. – Kerry Singleton, Sales and Strategy Intern
Soft skills to help me every day
My internship was on the business development side of Personify, so my main objective was to qualify leads and conduct competitive analysis. I learned how to use Salesforce, an invaluable skill as it is a hugely popular tool, so my experience will help me in the future. In addition, they gave me the room to build on my soft skills and work with autonomy, which will benefit me in everything I do. – Joe Stewart III, Sales Development Representative Intern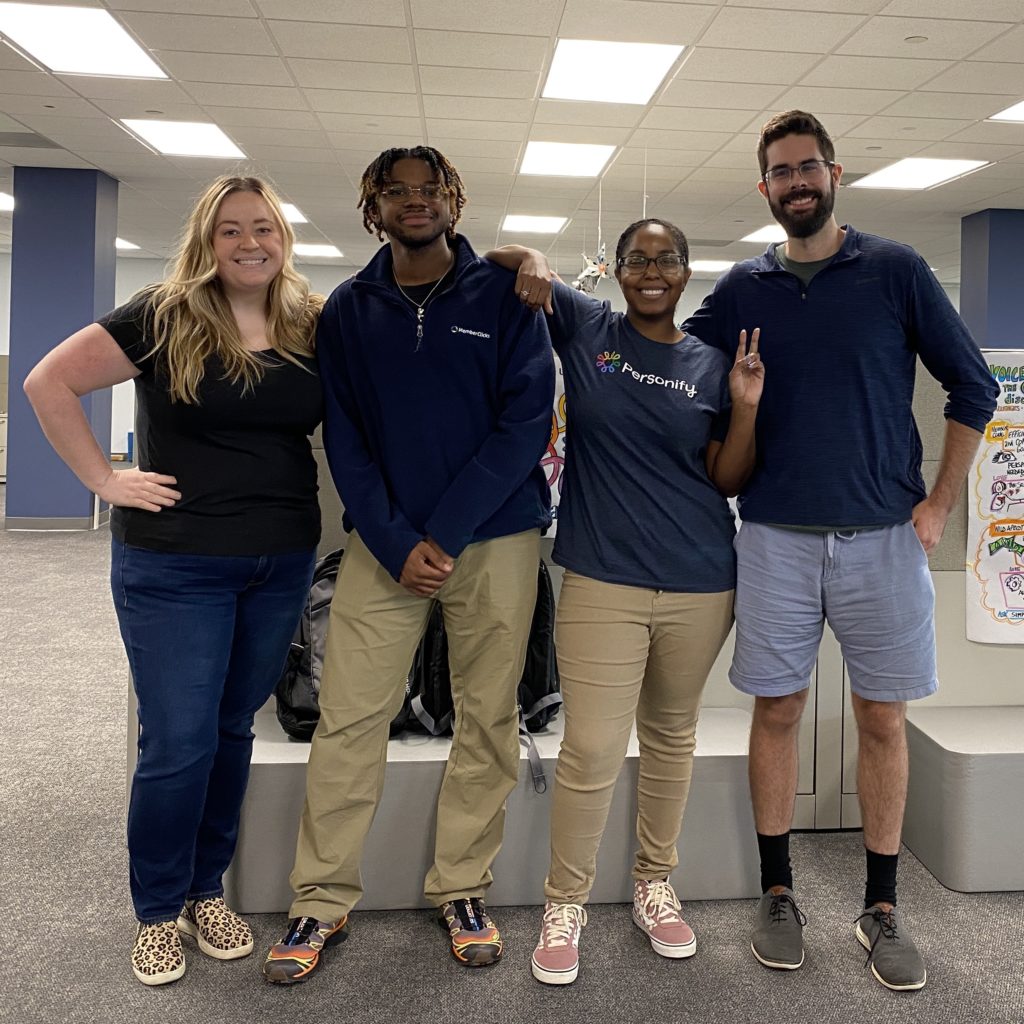 With every experience as unique as the intern participating, our dedicated PersoniVersity buddies feel very proud of the progress their interns made and a little melancholy to see them go.
"Ashjah helped update customer-facing documentation to make it more accessible. While her value as a hard-working team player will be missed, so will our Monday meetings, when I get updates on her work but also her pets and her D&D campaign." – Joy Wingert, Education Manager
"Riley got rolling on the writing unit and cypress tests and absolutely rocked. We didn't have to tell him why they were important; he was able to determine that on his own and fully committed to the tasks." – Jason Chalfant, Senior Software Engineer
"Jaden helped research and compile data for our MC Trade Win-Back Campaign and picked up SalesForce like a champ. He asks amazing questions, and I have no doubt that he will be successful in whatever he does in the future." – Jennifer Cote, Content Marketing Manager
"Joe always had a positive attitude and committed 100 percent to help the team! He was a great intern and made us laugh in the SDR huddles quite often." – Kaleb Kinney, Sales Development Representative
As we wish our interns the best of luck in their continued studies, we hope we've inspired them in the same way their eagerness and dedication did for us.
People of Personify
The "People of Personify" is a multi-part series featuring profiles and interviews with leaders and talented team members at Personify who are driving innovation for professional associations and event management partners.