Here are some of the top moments from our recent webinar about building a welcoming and engaging space for all.
By: Ashly Stewart, Content Marketing Manager
Last week, Rich Vallaster, Director of Marketing for Events Management Solutions, joined me as we asked people the big questions related to inclusive communities: What has a community done to make you feel welcome in the past? What are the different reasons you've joined an online community? And what tools do you find helpful in a community?
The answers included welcoming spaces like college alumni communities, fitness communities, and even an online community dedicated to helping people with curly hair be their loudest, proudest, most stylish selves!
To get to the heart of why these types of communities make us feel welcome, we looked at why 5 of the most popular community examples join online communities in the first place and how associations and nonprofits can build a community that's a space for all with the right tools and strategies at their side.
Here are a few highlights from the webinar.
Why organizations love communities
Online communities have been on the rise for the last couple of years, and associations and nonprofits have taken notice of the big benefits of having an online space to connect with members, get real-time feedback, and offer members continued engagement with each other and the organization.
Combine these benefits with the latest stats that prove that online branded communities are having a significant impact on increasing membership loyalty and decreasing support costs, and we can start to understand why more associations are choosing to invest time, money, and resources to build an online community.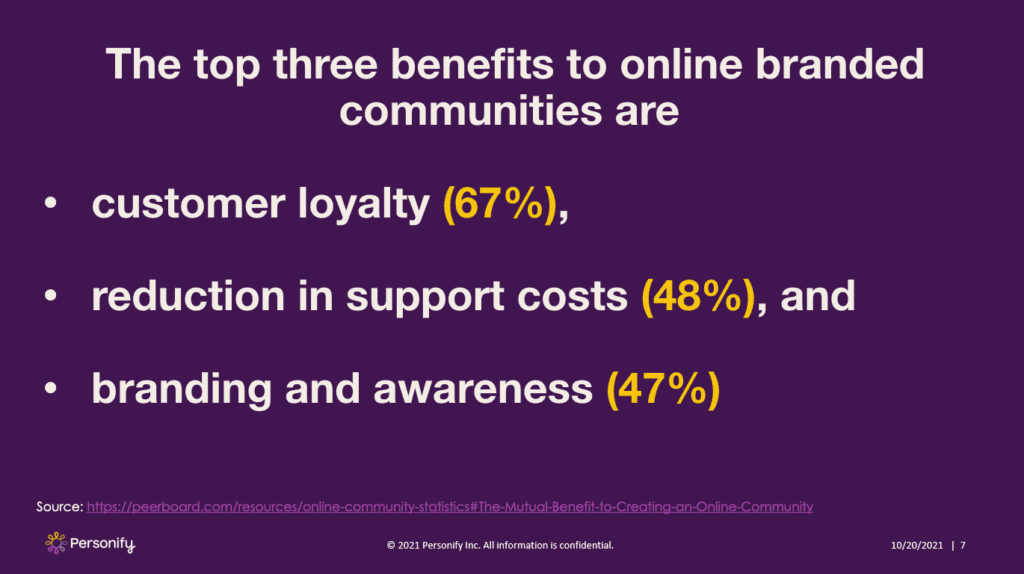 Why members love communities
When members were asked what motivates them to join communities, a large majority of members said they like to ask questions and they like the idea of helping other people find solutions to their problems. Isn't that nice?
We also found that half of people say they want to join communities to be seen and to be heard, which supports emerging insights we've seen across industries, especially in 2020 where the pandemic made everyone feel a little isolated and disconnected from each other.
The big problem with online communities — and how to solve it
BUT. It turns out that members feel disappointed in their experiences with an online community after they've joined, specifically when it comes to the desire to be seen and heard.
When asked how being in an online community makes members feel, a mere 19 percent say they feel that their voices are heard and only 24 percent feel like they can really be themselves.
There are a lot of reasons why members join online communities and then decide not to engage or leave altogether, but we believe recent member feedback proves that the solution to building a community that members want to be a part of and recruit their friends to join has everything to do with meeting their expectations.
How to meet (and exceed) member expectations
Members want to be seen and heard, and the best way to do this is to stop treating all your community members the same. Understand WHY your different members joined your community and how they like to interact.
For some, it could be that they joined to get the latest and greatest news and resources. Others join to connect with like-minded people about a topic they love in discussion forums.
Once you take the time to understand the "why" behind your top member types, you can begin to create an online space that makes them feel welcome – a community that becomes one of their favorite online spaces.
5 popular types of community member examples
To help organizations get started on the quest to understand their members and build something that they will engage with, we broke down the top 5 different types of community member examples including:
The Researcher — The researcher joins communities to find a trusted place for reliable information. They enjoy discussion forums that are well-organized and searchable and a blog or resource center. Just don't post old information from questionable sources, or you'll lose this member type. Fun fact: In our live Q&A session, The Researcher was the member type attendees identified with the most.
The Connector — The connector is a dream member type because they tend to be highly engaged without a lot of encouragement from staff. Basically, if you give them an active Newsfeed, the ability to message other members, and the ability to start new discussion forums you have a very happy member on your hands. You also can't go wrong with an updated event calendar for your connectors.
The Scholar — Similar to the researcher, the scholars join communities for the chance to learn new things. But for scholars, they enjoy more formalized learning opportunities like video tutorials, training courses, and even fun quizzes. The other big benefit of communities for scholars (and associations) is that they like to share their knowledge in the community.
The Advocate — The advocates are community superusers! Advocates are true believers in your mission, and they often join associations and nonprofits to fulfill a need to make a difference. They view an online community as one of the better ways to further the mission by connecting with other members, responding to volunteer opportunities, and easily donating to fundraisers.
The Entertainer — Online communities attract people like the entertainer who simply enjoy all the fun things the digital space has to offer — light-hearted videos, pictures, and articles — that can easily be viewed and shared with others. Entertainers bring positivity to online communities, and even though they're known for bringing the laughter, they also forge deep connections and often volunteer to help with fun events like social hours, virtual trivia, etc.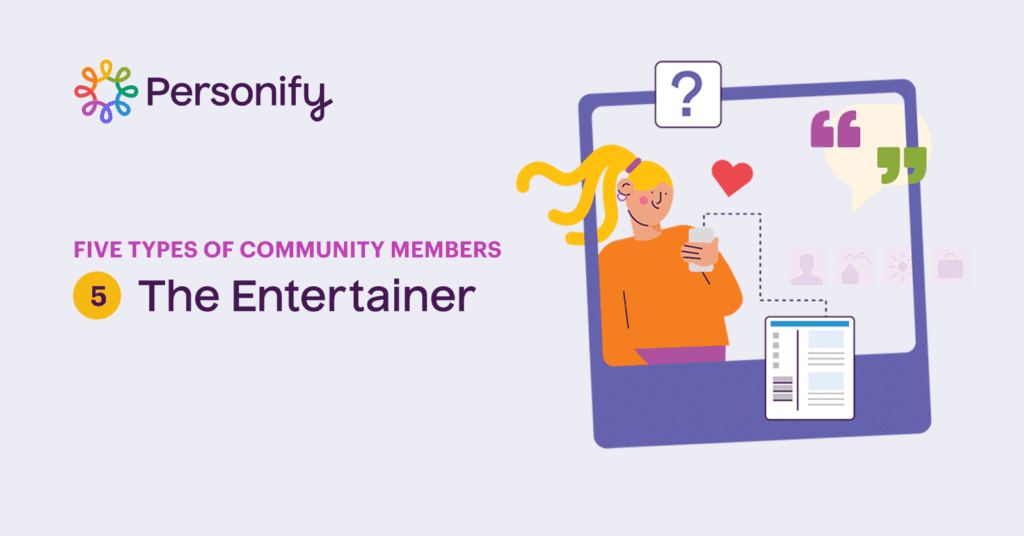 Communities + events = a winning combo in a virtual(ish) world
Rich Vallaster spent the last few minutes of the webinar talking about a trend we've seen emerge as COVID-19 has changed the way members connect with their associations and other members. The move from in-person gatherings like events, social hours, and chapter meetings to virtual was a difficult transition, but we've persisted.
He walked us through a few strategies for increasing attendance to virtual, hybrid, and in-person events through using an online community to promote the event and start building connections BEFORE an event starts, so members find greater value in attending the event with friends at their side.
You can also use online communities to build on the momentum and deepen connections made during the event by setting up discussion forums that related to your event's sessions, and topics to keep conversations going and add continued benefits for your members and extra value to your events.
Enjoy the recording and interactive guide
If you couldn't make it to the live webinar, well, we missed you! But we hope you'll watch the recording and continue the conversation by reaching out to us with all your great questions and ideas.  
And if you can't quite get to the webinar recording, we've built an interactive guide that walks you through some of the best takeaways and tips for building a community that's inclusive to all your members complete with full profiles of the top community member examples.