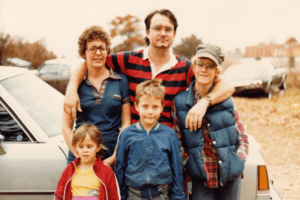 Thirteen years ago, in the fall of 2005, I filed the incorporation papers. From of a dual process of creativity and evaluation that spanned personal passion and market opportunity considerations, Small World Labs was born. On Friday, November 9, 2018, we celebrate the 3-year anniversary of Small World Labs' acquisition by Personify, and the origin of the Personify Community product line that helps so many nonprofit organizations connect with their members and supporters in new and innovative ways. As the product was called Small World Community in the beginning and then later changed to Personify Community, I'll refer to its current name in the words below.
In 2005, I had just come back from a two-year sabbatical in Argentina. Prior to that, I had cut my teeth as a management consultant, a product manager and a nights & weekends entrepreneur who built ROI models for the sales teams. I felt like I was ready for the next step, to become a full-time entrepreneur.  I sat in the second bedroom of our apartment in downtown Austin next to Zilker Park and racked my brain for ideas as my fiancé (now wife) from Argentina alternated between painting and studying English in our combo kitchen, living room, patio area. When you're in a tiny apartment, pretty much every area is a combo area.
Thirty ideas made themselves on to my list. I thought through each one, ranked them and then focused on the top five. I then put these five ideas through the same analysis:
What was the market opportunity?
What were the barriers to rollout and adoption?
How painful was the problem I was solving?
What was my current domain expertise in the subject matter or my ability to develop that expertise quickly?
And lastly, how passionate was I about the idea?
The last one was important because I knew that the stories of overnight successes were the exception, and what lie ahead was likely years of grinding it out. After you've finished your ninth all-nighter, it is passion and drive alone that enable the tenth.
What other ideas did Personify Community beat out? Numbers two and three were:
TurboTax for immigration & naturalization
Reservation system for city street and lot parking
What tipped the scales in Personify Community's favor? The last bullet – how passionate was I about the idea.
Growing up in a family with two deaf parents I saw first-hand the impact that that one's access to word-of-mouth sharing has on our daily lives (that's me in the picture in the middle with the Royals jacket with my parents, brother and sister). In my parent's case I got to see how life was if you didn't have access, and then later if you did.
Due to my parent's deafness, they were largely cut off from being able to communicate with others. Before the Internet, do you remember being able to ask your friends for their opinions on decisions you were about to make? Remember soliciting ideas? Remember talking through issues during times when you just needed some emotional support? I do. My parents don't. But that all changed in the late 90's.
My father, while deaf, was technical and worked as a database administrator for the Department of Defense. He had a computer at home early on, and even programmed his own home finance application that he still uses today. The Internet went GA in 1994, but it wasn't till several years later that the modern vestiges of Web 2.0 emerged – the ability to not only read information online, but to communicate back and forth via a website or website application. At the time, these were the simple flat-thread online forums and funny chat rooms with the bleep and blood sounds that caused the hearing world to turn off the computer volume.
While we snicker at these when we still see them around the Web, for my father they were transformative. He could now interact with the rest of the world through his keyboard.
Fast forward to 2005, which saw the emergence of new collaborative and connective technologies. MySpace and Friendster created a way for people to reconnect. Blogger gave those in search of a voice a soapbox to stand on. Yahoo Answers gave those with questions the ability to find answers. Seeing these next generation capabilities led me to think, "If I could build a product that had all of these different capabilities to help people connect, engage, share and collaborate, and I could partner with organizations in need of new ways to connect their constituents, fulfilling that need that my parents had, then that would be transformative."
And that was the journey I chose to embark upon.
Ten years later, after two pivots, lots of road rash and countless late nights, we had succeeded in building a team and product that was used by many of the leading nonprofit organizations to connect and engage with their supporters. And on November 9, 2015 we were acquired by Personify.
Looking back, a few memories stand out for me:
For Personify Community, I see more great things ahead. Our development processes have matured, we're releasing new cutting-edge capabilities, and we have a strong team that is committed to our clients' success.
After their companies are acquired, most entrepreneurs choose to opt-out soon afterwards and do other things, but that was not the path for me. In Personify, I found a partner that shared my mission of wanting to empower nonprofit organizations make the world a better place, one constituent at a time.
During the past three years, it has been my pleasure to work with the Personify teams across Personify Community, Personify360 and Wild Apricot… and most importantly with our partner clients. Their success is our success.