I recently had the opportunity to volunteer with the nonprofit Latinitas at their Startup Chica Conference in Austin, TX. Nearly 50 fifth- and sixth-grade girls attended the conference where they developed startup business ideas, worked with mentor to refine their business pitches and pitched their business plan to a panel of judges from high-profile companies in Austin.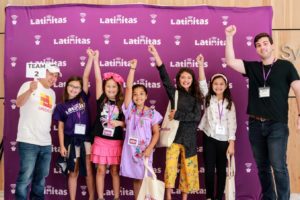 I had the opportunity to serve as a mentor at this event and worked with a group of seven girls to bring their startup idea to fruition. The group I worked with developed a concept of a vending machine and food redistribution network that would allow fellow students and restaurants in the area to donate and repackage unused food in an effort to ensure no student goes hungry.
According to Feeding America, 17.9% of children experience food insecurity, which means that they experience limited or uncertain availability of safe, nutritious food at some point during the year. While I'm aware of food insecurity issues and the concerns about lunch shaming happening in school cafeterias, I was surprised and heartened to learn that these middle-school students have the same concerns and want to alleviate these issues for their fellow students.
Latinitas is an Austin-based nonprofit organization that aims to empower all girls through media and technology and the Startup Chica Conference is one of many ways in which the organization achieves its goals. During the event, the team of girls I worked with leveraged a SWOT analysis to prove out the concept, developed reporting to understand the costs involved and profit margin and created a logo and tagline as part of the marketing plan.
The panel of judges scored each team based on the startup concept, presentation, public speaking skills and overall knowledge of the idea. In my role as mentor, I worked with the group of girls to help develop and expand the startup idea, integrate feedback from the judges through the process and shared details about my career including why I chose to work in the technology sector and what I do on a daily basis.
During the conference, I was amazed and blown away by the creativity, compassion and raw intelligence my team of Chicas displayed. Although our team was not selected as the grand prize winner, I think that we all left the event feeling like winners because of the team's hard work and passion for this project.
One of the reasons I enjoy working at Personify is that not only do we get to work with nonprofit and association clients that are making the world a better place but also that our employees are able to take time to volunteer at organizations that align with our passions and interests. I absolutely cannot wait to work with Latinitas again in the future.