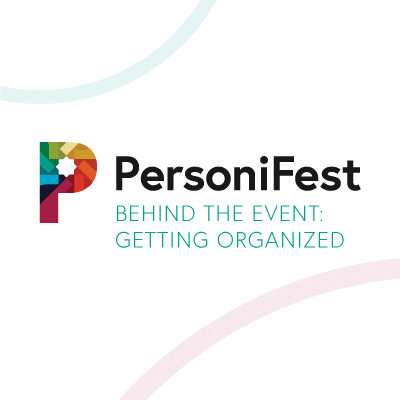 Only a few weeks ago, I was checking off to-dos on my event project plan for PersoniFest, finalizing onsite creative assets and getting excited to travel to Colorado Springs. While the Coronavirus (COVID-19) had begun impacting other countries, the severity of the virus had not yet become apparent. There were few infections in the U.S. and people, businesses and governments were not yet limiting in-person interactions and travel. And then, everything changed.
For the past 13 days, I've been working remotely and practicing social isolation. It's been an adjustment and, on some days, a real struggle. If you're like me, COVID-19 has affected every part of your daily life, both personal and professional. All of the upcoming trade shows that our team has been hard at work on are now cancelled, we're in the middle of reimagining our annual user conference into a virtual event and our company is transitioning to a remote workforce. On a more personal level, I've had to postpone my upcoming wedding and honeymoon.
While it feels overwhelming at times, I know that nearly every individual, business and community is struggling with these same challenges. We are all in the midst of adjusting to our "new, temporary normal" and rethinking our strategies during this unprecedented time. In the spirit of collaboration, I thought I would share a few thoughts on how our team is shifting our events strategy. I certainly don't have all of the answers (and certainly not as many as I'd like), but it's been helpful for me to talk through the new process and considerations with our team.
For our events strategy, the questions that we're asking ourselves include:
Should we attempt a virtual exhibit booth for trade shows that we planned to sponsor in the first half of the year?
What does a virtual user conference look like and how can we deliver value to our attendees in this type of format?
How long should it be—do we retain our original three-day structure or make it more succinct and deliver the content within a single day?
What percentage of the keynotes and breakout sessions should be recorded live versus pre-recorded?
What technology do we need to leverage to be successful?
How can we keep people informed and up to date on the evolution of our conference, much of which is happening in real time?
Recently, our team decided to share a behind-the-event peek at how we're adjusting and pivoting to a virtual conference on Planet Leadership, Personify's podcast for association, nonprofit and event professionals.
Whether you're a regular subscriber to the podcast or if this is the first time that you're hearing of it, I encourage my fellow marketers and event professionals to check out our latest episode where we discuss many of the considerations that impact the transition to a virtual event.
In the first episode, which we've titled Getting Organized, I'm joined by my colleagues Teresa Zimmerman, Vice President of Marketing, and Rich Vallaster, Director of Client Relations and the Trade Show Wonk, to discuss our thought process and how we are rearchitecting the foundation for our annual conference. As you and your team are working on your events strategy, we hope that you gain some value and clarity from hearing about our new process and next steps.
I'm excited to share that this will be a multi-part series where various members of the Personify team share their new strategies, thought process and questions to consider as we move forward with our virtual conference. Join us!