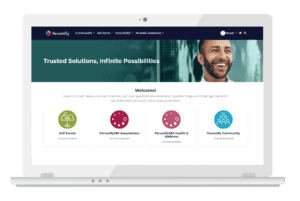 Earlier this month, Personify announced the launch of our new client community, an online home for all of our clients to gather, connect, explore and learn. No matter which solution you use, you now have access to a centralized community, which means more content, more access to Personify experts and more of your peers.
We are big believers in the value of digital communities. Sure – we all utilize a variety of channels to connect to coworkers, friends, volunteers and constituents, including email, phone, video conferencing, text and social media. And before COVID-19, we could network with like-minded professionals and grow business relationships at in-person events, conferences, trade shows and happy hours.
But, unlike these other channels, an online community uniquely provides a space for people with a common interest, product use or membership to gather, generate and consume content, and access relevant tools and information long after an in-person event ends or well beyond an email thread. It's been referred to as a Third Place—different from your two primary places: home, and work or school, where you are among your tribe in a safe space.
That's exactly what we want for our new client community. We've designed and built a space where we hope all will feel welcome and valued, but we need YOUR help to grow the community into a thriving ecosystem of problem solvers, game changers and bold innovators.
Just in case you're still on the fence about joining the community, here are a few things to consider…
Top Reasons to Join:
To connect with like-minded association, nonprofit and event professionals who are using Personify solutions to advance their mission and achieve their goals
To access product release notes, documentation and user guides all in one place
To receive exclusive content that you can only find within the community, plus direct access to Personify staff and experts
It's FREE!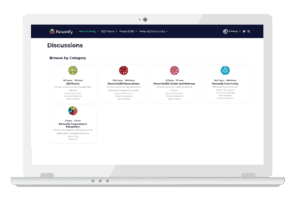 While we've done our best to thoughtfully design a community that's easy to navigate and welcoming to all, I know it can still feel overwhelming to adjust to a new space. It's similar to that feeling of walking into a party 20 minutes too early and not knowing who to talk to, or if you should make yourself useful or just linger in the background until the party livens up.
Let me be the first to welcome you to the PersoniParty with a few tips to make yourself at home.
Tips to make yourself at home in the new community:
Take the welcome tour. Upon logging in for the first time, you'll be prompted to take a welcome tour. The tour will walk you through how to start a new discussion or participate in existing discussions, browse and RSVP to upcoming events, and set up your profile.
Make Connections. Browse the member directory to connect with colleagues and Personify staff.
Join the conversation. Browse the discussion boards or start a new discussion! Do you have a problem you hope to solve with one of your existing solutions? Are you looking for advice on how to improve staff adoption of the new interface? Do you have an idea for a product enhancement or innovation? Don't be shy! We're all (Personi)family here.
*Please note that the community is for Personify clients only. If you're not a member of the Personify family (yet!) but are interested in learning more about our approach to online communities, please feel free to reach out.