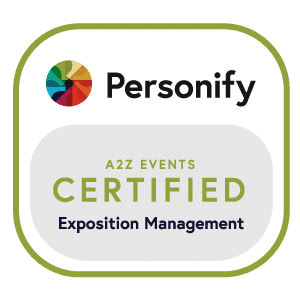 Event professionals have faced incredible challenges since the start of the pandemic. With a quick pivot to virtual experiences and the prospects of executing hybrid events in 2021, the entire Personify team is amazed at our event professional colleagues' resiliency, creativity, and grit.
We set out to further guide your journey ahead by offering a FREE certification program this spring exclusively for A2Z Events clients. The A2Z Events Certification Program was developed for event professionals by event professionals and industry partners to assess mastery of skills for professionals using the A2Z Events platform. Whether you want to validate your skills, fast-track your expertise or get a system fresher as in-person events return.
The program kicks off this March and we have included additional details for interested learners:
Who Is This Certification For?
Current A2Z Events Clients
Event professionals with a recommended minimum of two years' experience in the events, trade show and exhibitions industry.
The certification has been created to test proficiency across the base solution.
How Long Does It Take?
On average, most clients will be able to prepare and certify in less than two months.
What is the Program Like?
The certification includes live and on-demand seminars, self-paced course work, readiness tools and online meetups with the education team and other industry professionals to prepare for the certification.
What Topics are Included?
The following list of topics are included in the exam.
Global Information

Global Admin Navigation
Companies
Contacts

Event Management

Floor Plan Management
Financials
Online Exhibit Contract
Sponsorships

Public Event Website

Content Management
Event Map
Exhibitor List
Exhibitor Console
What is the Exam Like?
The test is administered using our Personify/MemberClicks LMS solution  and consists of ~100 multiple choice questions. Certification requires a passing score of 80% or more. Don't worry, if you don't pass the first time, we allow two exam re-takes within a month.
How Long Do I Stay Certified?
Since our solution is constantly evolving, A2Z Events Certifications are good from two years of the passing date.
How Much Does it Cost?
We know organizations and professionals have had significant challenges due to COVID. We are waiving all associated costs for current clients through 2021.
How Do I Get Started?
Current clients can take our sample test and register here.