Personify announces innovative guided tours to extend member engagement
August 20, 2018—Austin, Texas— Personify, Inc. ("Personify"), the leading provider of technology solutions for association and nonprofit organizations, unveiled a new functionality called the Tours engine, which allows organizations to develop deeply personalized member journey experiences within the Personify Community solution (formerly known as Small World Community). Personify announced the new tool today at the American Society of Association Executives (ASAE) Annual conference.
Further improving on the vibrant digital spaces delivered by Personify Community, the introduction of the Tours engine gives organizations a new suite of tools to curate, promote and deliver relevant content experiences unique to individual members. The Tours engine guides constituents through self-directed paths as they explore trainings and resources while highlighting happenings, points of interest and focused interaction points within specific groups, forums and discussions—all designed to maximize engagement with members. Tours has proven particularly powerful in onboarding new members, introducing a high-impact way to encourage involvement during the critical early days of membership and helping organizations articulate the value of membership from day one.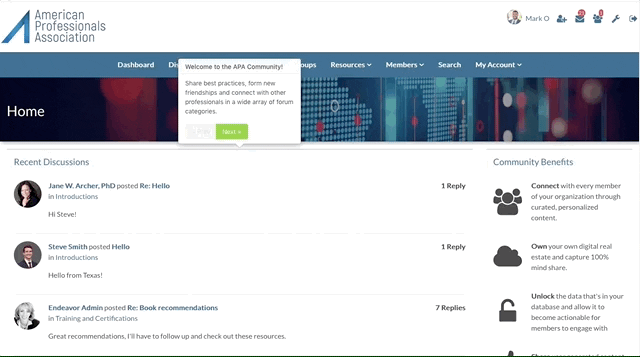 "When associations and nonprofits deliver personalized experiences to their constituents, this provides a great opportunity to stand out in a cluttered marketplace," said Eric Thurston, president and CEO of Personify. "Scaling an organization's mission requires digital strategies aligned with and focused on both reach and engagement. The Tours engine delivers those tailored interactions across each member's unique journey, creating experiences that resonate across generations."
Today's announcement continues Personify's momentum in building an end-to-end constituent management and engagement platform to help associations, charities and health and wellness organizations manage their members, fundraisers and donors. The addition of enhanced collaboration tools, alongside Personify's full-service digital community-building approach, has achieved successful results for organizations striving to transform, connect and deepen relationships with their supporters through authentic conversations and interactions. To celebrate the enhanced collaboration tools and end-to-end approach Personify provides to its clients, the organization unveiled a new brand at the ASAE Annual Conference and on its digital properties.
Association leaders can explore these new capabilities August 18-21 at Personify's booth #539 during the 2018 ASAE Annual Meeting and Expo at McCormick Place in Chicago, Illinois.
Learn more about Personify's solutions for associations, charities, health and wellness organizations and emerging nonprofits at www.personifycorp.com
About Personify
Personify is a leading solution provider that empowers the best constituent-focused organizations to succeed. Personify offers products and services that enable organizations to acquire, engage and optimize relationships with their constituents. Personify captures and provides insight across all constituent interactions, allowing associations and nonprofit organizations to drive productivity and maximize revenue. For more information, visit https://personifycorp.com/