"There's only so much you can put in the cloud before it all starts raining down!" yelled Matra, my Nepalese Lyft driver, who was also excitedly gesticulating (which made me feel slightly uneasy) as we barreled down the highway towards the airport. Matra was describing what he felt was the impending state of the tech community in San Fran, a city in which he works and lives.
Matra might as well have been describing my mind after not only presenting but also attending two full days of CMX Summit, the largest conference for community professionals, held at the Fox Theater in Redwood City, CA. CMX is a beautiful, fast-paced data dump with the purpose of expanding and refining tactics and application of community building and management. Most of the summit sessions were 20 minutes long delivered in a keynote-style format, so at the end of each day attendees soaked up information at the pace of a piece of bread thrown into a lake.
CMX founder David Spinks kicked-off the conference with his overview, "The State of the Community Industry," a summary of data compiled from a recent survey posted to CMX members, the constituency of which consists of community leaders and builders around the globe. The findings underscored an organizational trend in which community is being recognized as critical to the company's mission. This trend was reflected in CMX summit's highest attended summit to date with over 1,000 attendees, a 150% increase from last year.
An early conference highlight, the first of many, was a fireside chat with NYT and WSJ bestselling author Kim Scott and Ryan Smith, co-founder and CEO of Qualtrics, on the topic of Radical Candor. The heart of radical candor in community means to "care personally and challenge directly." While radical candor is a culture shift that requires buy-in and commitment from the top down, it can have overwhelmingly positive results in the quality of communication within the team and within the organization. Imagine working in a space where people enjoy their work and colleagues, and feel a sense of trust, investment and impact in the trajectory of the company or community itself?
Nir Eyal took to the main stage to talk about his new book, "Indistractable: How to Control Your Attention and Choose Your Life" with a sneak peek into some tips and tricks on how to overcome technology's hold, driving home that in order to manage distraction, we must first understand what discomfort we are avoiding. The irony was not lost that Eyal is also the bestselling author of "Hooked: How to Build Habit-Forming Products" – and is an expert on the stickiness factor of platforms like Facebook, Slack and iPhone.
Another summit gem was the conversation on building diverse and inclusive communities with Tiffany Yu, Founder & CEO of Diversability, Olatunde Sobomehin, CEO at StreetCode Academy that provides free coding for communities of color, and Hannah Levy, Community Manager at Tech Ladies. The first and easiest step is to reframe the way we think about marginalized and vulnerable communities; instead of thinking about disabled members from an exclusion, scarcity mindset (which strips that cohort of power), change mindset to one of inclusion and abundance. There is room for everyone.
"Self-Care" was announced to be the 2020 theme for Community Manager Appreciation day by the creator of the awareness day himself, Jeremiah Owyang, Founding Partner of Kaleido Insights. Cheers erupted in the gallery in response; TLC for community professionals is an oft discussed topic but rarely executed as they are often wearing several different hats and juggling multiple roles. David Spinks reported in his overview highlight that 75% of communities have 5 members or fewer. Several sessions covered this topic including "Self-Care Isn't Selfish: Strategies for Bringing Your Best Self to Your Community" emphasizing the airplane oxygen mask metaphor – placing the mask on yourself before helping others – in order to keep yourself fully able to support of caring for others without sacrificing your own well-being.
The conference creators added individual touches to help make the large conference feel inviting and to maximize the connection between attendees. The first task for summit registrants after registration was to personalize lanyard badges – such an easy way to warm up attendees and make them feel welcome. Another interesting concept at the conference was CMX's "Birds-of-a-Feather" lunch where tables were set up to facilitate conversation between the attendees. Conference organizers organized around 15 tables around a topic specific to Community like "Crisis Management" and "Building Belonging: Designing Balanced Community," and attendees could sit at different tables to share their thoughts or ask questions.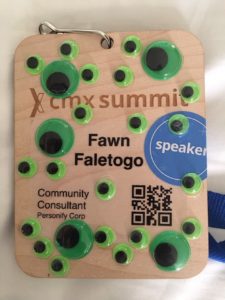 Charlene Li, founder of the Altimeter Group and author of "The Disruption Mindset: Why Some Organizations Transform While Others Fail," closed out with the conference. She held an illuminating and captivating discussion with David Hersh, Founding CEO of Jive Software, in a fireside chat titled, "The Secrets of the Most Disruptive Organizations." The discussion focused on how communities can contribute to the disruption strategy of successful companies, along with the courage it takes for companies to develop and implement changes based on a future-state of its customer not yet seen. To make vast changes and steer the ship towards the unknown is a disruptive movement, but these leaps also define company innovation that can change the world.
In my own session "Sense of Community: Find Out What Your Members Won't Tell You," I talked about the challenges of trying to tie metrics to a feeling. Coupled with that, metrics are effective in telling us the potential for engagement but not necessarily the real picture. I proposed a practice of taking the SCI (Sense of Community index tool based on McMillan and Chavis' decades of research) and turning the survey items into a checklist for community builders and managers as they walk through this house that they've built from the ground up.
The conference wrapped with closing remarks by David Spinks and included an announcement that CMX Summit would return to Redwood City at the Fox Theater in 2020.
If I had to summarize my experience for the 2 days spent at CMX, it would include the word 'passion.' Everyone I observed, from the Lyft drivers to bestselling authors, displayed a pulpable passionate about their community, whether physical or virtual.