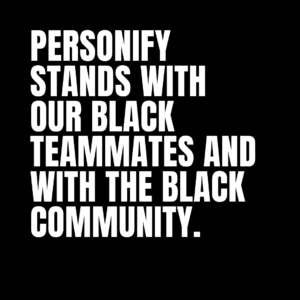 We are living in one of the most painful and challenging moments in our history. In the last three months, we've lost five Black Americans to senseless and brutal acts of racial profiling and physical violence – Ahmaud Arbery, Breonna Taylor, Sean Reed, Tony McDade and George Floyd, who was murdered while in police custody. While these are just a handful of examples of what we've witnessed in the U.S., we know that similar scenes are playing out in cities and countries around the world.
We have seen a disregard for basic human rights and life, and the values that we hold dear are under attack. These continued acts of racism and violence against Black people have sparked justified national outrage and created an urgent and renewed call for social justice.
Personify stands with our Black teammates and with the Black community. We support you and we publicly state that Black Lives Matter.
Additionally, I want to make it absolutely clear that Personify will not tolerate racism, hatred or discrimination of any kind. But we need to go further than that. It is not enough to condemn these atrocities. We must do the necessary work to dismantle racism, discrimination and intolerance in all its forms.
Internally, we have spoken a lot about our purpose. In an earlier memo to Personify employees, we shared that now more than ever, our purpose of changing the world—one constituent at a time, is particularly relevant. And changing the world starts in our own internal office culture and our initiatives to support diversity, equity and inclusion.
There is more work to be done to ensure Personify is an inclusive work environment where every employee, client and partner feels equally seen and heard. We currently do not have a formal diversity, equity and inclusion program in place at the organization. And as we looked at our talent across Personify, we have not been intentional about mirroring the diversity of the nation across our teams.
We believe that our actions matter and that to genuinely support our employees and our markets, we need to live our words with intention. Tangible and intentional change starts today.
We are taking a hard look across the company to understand how we can better support a culture of inclusion and belonging. Our first priority is to listen and take stock as we examine our own policies and prioritize areas to improve. Changes won't happen overnight, it will take learning, discussion, evaluation, and action from all of us to truly make an impact.
With the attention and support of the entire Personify Leadership Team, we are taking steps towards building an environment where all employees feel included, supported and safe in bringing their full selves to work. This includes the hiring of diverse voices across our company and holding ourselves accountable to expanding our candidate pool. And, we will track this the same way we track all other efforts, with metrics and KPIs.
This is the first of many steps in a commitment to do our part in building a culture of diversity, equity and inclusion within Personify. We will share more details about Personify's newly created Diversity, Equity and Inclusion efforts and will launch a series that chronicles our internal initiatives and lessons we are learning shared on our Planet Leadership podcast. As an organization, we will continue to speak out, as we live our intentions—and we will continue our commitment to be the change we want to see in our communities, both internally and with the markets we serve. This is what Personify stands for as a company.