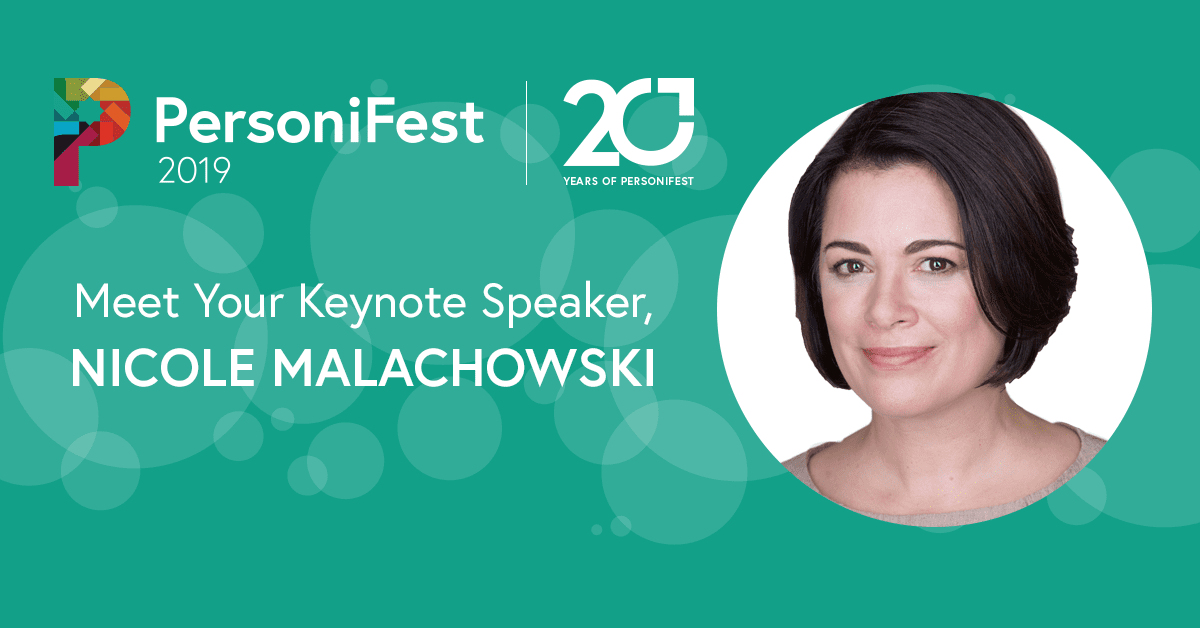 Did you know that PersoniFest is only 10 weeks away? At Personify, we are counting down the days until we're reunited with our clients, partners and friends at the 20anniversary of PersoniFest, our annual user conference.
When I think back to the 2018 PersoniFest, it feels like it was a whirlwind of keynotes, networking, training sessions and fun. It was also my first full week as a member of Personify. (#baptismbyfire)
I've attended quite a few conferences and the thing that stands out for me at PersoniFest is the level of excitement and passion in the room that was generated by my colleagues, our clients and industry friends—many of whom only get to see each other once a year at this event. One of the reasons that we host PersoniFest is to create a sense of community among our clients where we can bring together the largest associations and nonprofits in the U.S. with small emerging nonprofits, YMCAs, JCCs, event organizers and more.
In 2019, we are prepared to double down on the excitement. After all, it's our 20th anniversary.
Our Keynote Speaker: Nicole Malachowski
We are thrilled to bring Colonel Nicole Malachowski to the main stage at Personify. Nicole was the first female pilot on the Thunderbirds Air Demonstration Squadron, which is the military's most elite group of aviators (one in 2,000 USAF pilots become Thunderbird pilots). She's also a leader, an instructor, a White House Fellow and an inductee into the Women in Aviation International Pioneer Hall of Fame.
While other high school students were practicing for their driver's licenses, Nicole was accumulating flight time – she was sixteen years old when she took her first solo flight. She was selected to fly as Thunderbird #3 with the USAF Air Demonstration Squadron – the first woman to fly on any Department of Defense military jet demonstration team. Nicole served as a mission-ready fighter pilot in three operational F-15E fighter squadrons and has flown over 188 combat hours, including her proudest moment as a fighter pilot: leading the first fighter formation to provide security for Iraq's historic democratic elections in 2005.
When Nicole's distinguished military career was cut short by a neurological tick-borne illness that, at its worst, left her unable to walk safely or speak intelligibly, she overcame those challenges, as well. Nicole will share lessons learned from a distinguished 21-year career – giving you the courage to push the envelope and achieve what's possible in your own organization.
Don't miss your chance to hear from her and other leaders that can help you make your organization's possibilities a reality.
General Sessions and Persi Awards
In addition to Nicole's keynote, President and CEO Eric Thurston will share his vision for expanding our solutions in 2019 and beyond and highlight research that we conducted with Millennial and Gen Z association members. (Sneak preview: Membership still matters with young members and organizations should not depend on digital alone.)
Chief Technology Officer Dave Cooper will share technology trends that are affecting associations and nonprofits and how organizations can stay ahead of the curve. He'll also unveil the Personify solutions roadmap for this year.
On the final day of PersoniFest, Vice President of Client Success Sarah Schmall and Vice President of Products Shiv Narayanan will announce our 2019 Persi Award Winners for their innovative and impactful approaches to acquiring, engaging and retaining members. (It's not too late to submit a nomination for a Persi Award. Nominations close on Feb. 5.) As previous PersoniFest attendees know, one highlight of the conference is the big location reveal for the following year. Join us Wednesday morning as we make the big announcement for PersoniFest 2020.
We'll be sharing more details about additional speakers soon. See our list of current speakers and breakout sessions.
We hope you can join us in Savannah!