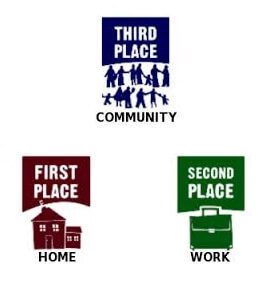 When an organization comes to us to help them build a new online community, we're reaching for something that is more than the sum of modules, content blocks and member data. In each implementation, we strive to create a unique space where members feel compelled to present their best and most authentic selves, among people whom they're profoundly connected to.
One theoretical perspective on what we're doing is called Third Place theory, the idea popularized decades ago by sociologist Ray Oldenberg with his book The Great Good Place. He wrote that certain kinds of gathering places are essential to happiness and civic vitality.
Third place theory is the concept behind Cheers (you know, where everybody knows your name).
It's exemplified by the kind of neighborhood barbershop where the conversation is just as important as the cut. It was Howard Schultz's key takeaway from his visits to Italian coffee houses in the 1980s, and therefore what he strove to recreate stateside when he founded Starbucks Coffee.
In your third place (as distinguished from your two primary places: home, and work or school), you are among your tribe in a safe space. Your interactions reinforce your bonds and the culture of your group. You engage with your peers effortlessly. This place means a lot to you.
Historically, third places were organic and brick-and-mortar. Today, they can be less about where we meet than why, and we need third spaces in our digital lives, as well. Online communities have the potential to amplify the physical third place—say, your organization's annual conference or your local chapters' monthly meetups—and extend it year-round.
Here are a few ways to harness that potential:
1. Be and do in public.
Want to encourage people to trust you and feel comfortable opening up to others in the community? Make authenticity a nonnegotiable. Rachel Happe, cofounder of The Community Roundtable, notes that when community managers "work out loud"—meaning they are transparent about their efforts, thoughts and goals—members reciprocate because they see that "working out loud is easy to do and is rewarded with peer recognition and response."
Working out loud could mean asking members for feedback, posting thoughtful reflections on issues important to your organization, celebrating accomplishments or being honest about the challenges you face.
This concept also has the bonus of creating a culture of transparency and inclusion in your members' third place. Encouraging and fostering conversations about tough topics reminds your members that they are all a part of the conversation and have a seat at the table.
2. But, remember that what is written is perceived as "the word."
Balance authentic activity with the knowledge that nothing you share in the community—or online anywhere—can be "off the cuff." Quips that might pass by unremarked upon in speech are open to infinite analysis, rumination and comment when burned into pixels.
Before clicking "Post" or "Send," try to imagine your members reading your post or message (here's where those member personas come in handy!). If you're sharing something that might cause controversy or upset, be sure to think through how you might respond.
Just like in real-life conversations, remind the members of your online community that they should think before they speak or type something out. There's less of an opportunity to quickly backtrack online than in a face-to-face conversation, and tone can easily be misconstrued. In order for your online 'third place' to remain a safe place for your tribe, consider including some conduct guidelines.
And if something inflammatory or controversial is shared in the community, handle it with grace and compassion for all sides.  
3. Define what leadership looks like.
While third places are characterized by openness and democracy, they still need leadership. Ambassadors, champions and super-users can help spread community news, amplify and diversify messaging and culture, and connect with members on a peer-to-peer level. Be sure to define what leadership looks like in your community, and be sure to set your community leaders up for success.
These people aren't meant to be in charge of anything. Like in other communities, these leaders are people who guide conversations, offer suggestions to others and help keep the culture of your third place consistent and reliable.
4. Make sure your user experience (UX) copy is speaking in your community's voice.
The voices and stewardship of community managers and leaders are essential, but don't forget that your community website is talking to members all the time—by itself! Helper text, error and success messages, notifications and other copy are all opportunities to imbue community culture and tone. Periodically review messaging and copy to ensure they're on-brand—and even a little bit delightful.
Remember, member engagement can be part of your website's design. When your online 'third place' encourages members to get more involved, interact with others and contribute in emotionally fulfilling ways, your members will return to the website again and again.
Here are a few nice touches from some Personify clients:
The United Nations Foundation's Girl Up Community speaks to girls and young women by having conversations in "chats" instead of "forums." Same module, different vibe.
The Blackbaud Community greets every new member with a welcome email that begins with the tongue-in-cheek "Welcome a'Baud!"
The community for members of the Aircraft Owners and Pilots Association is called—what else—The Hangar.
If you have the services of a UX writer or copywriter, the community is a great place to use these. If you don't, just remember screenwriter Michael Kanin's mantra: "I don't like to write, but I love to have written."
Those moments you spend agonizing over each word will pay you back when you, and your members, visit your community and you feel like you're truly where you belong.