When it comes to promoting social equality around the world, brands play a unique and powerful role. At Personify, our mission is 'To Change the World, One Constituent at a Time'. To truly live our intention, our brand, our employees and our outreach should reflect that intention in everything we do. It is our corporate responsibility.
We recognize, that as a company, we have a different kind of influence. Through our platform, we can provide a voice to issues that plague our society. We also have the ability to align our efforts internally, externally and across our geographies to support the change we want to see in the world.
A Groundswell Driven by Younger Generations
In recent years, there has been a groundswell of recognition in the role brands have within the social change arena. Seventy percent of consumers want to know what the brands they support are doing to address social and environmental issues and 46% pay close attention to a brand's social responsibility efforts when they buy a product, according to Markstein and Certus Insights research.
In our own research on Young Members, 97% of millennials and Generation Z reported they felt that an organization's mission and alignment to social good was important for their belonging. They believed that associations should be invested in improving society and look for solutions that will assist in those improvements.
Corporate social responsibility programs help build trust, raise awareness and encourage businesses large and small to enact positive social change. When companies choose to support philanthropic causes, it impacts not only their bottom line but also builds trust with consumers.
Corporate social responsibility comes in many forms, with even the smallest organizations driving social change. Here are a few examples of corporate social responsibility programs in action.
Examples of Corporate Social Responsibility in Action
Diversity, Equity and Inclusion
Marriott International, launched its popular "Love Travels" ad campaign in 2014. Across their hotel brands featuring gay and lesbian couples on vacation to better welcome those guests to their properties. And six years later, the company celebrates the LGBTQIA+ communities with activities throughout the year, as well as involvement in activism and legislation leading to a more inclusive culture for all.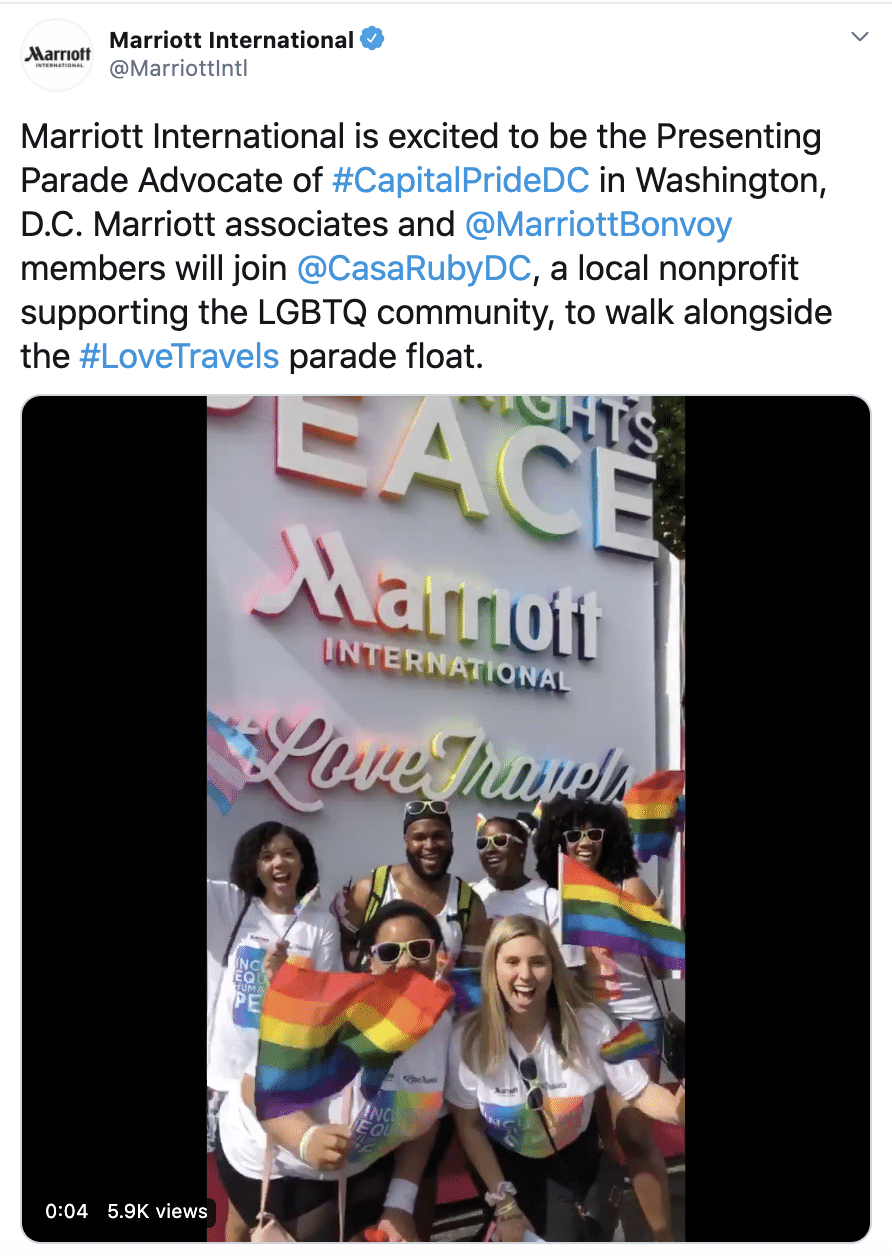 Nike has always played a role in social advancement and equity issues. Their commitment to inclusion and diversity with not just powerful messages, but actions that support of the Black Lives Matter movement and the LGBTQIA+ communities. They continue that promise to use their platform to recognize that you don't need to be an athlete to stand strong against injustice.
It doesn't take an ad campaign to foster a culture of inclusivity. More and more, companies are looking inward for how to nurture an inclusive workplace and culture.
At Personify, we are taking a hard look internally to understand how we can better support a culture of inclusion and belonging. Our CEO, Norbert Orth, shared a memo last month talking about how we live our intentions with diversity, equity and inclusion, as well as our commitment to standing up to social injustice as we stand with our Black teammates and the Black community.
With the support of the entire Personify Leadership Team, we are taking steps towards building an environment where all employees feel included, supported and safe in bringing their full selves to work. This includes the hiring of diverse voices across our company and holding ourselves accountable to expanding our candidate pool. This is the first of many steps in our commitment to building a culture of diversity, equity and inclusion. Because it is not only the right thing to do; but, it is well documented that diverse teams create a creative culture. That culture creates an enjoyable place to work and in turn, impacts the health and success of an organization.
Last month, McKinsey & Company shared a new report, "Diversity Wins" highlighting that gender-diverse companies outperform the national average by 25% and those companies that are more ethnically diverse perform 36% better. And even in these unprecedented times, there is ample evidence that diverse and inclusive companies are more likely to make better, bolder decisions—a critical capability in a crises. Other benefits include: better recruitment of top talent, stronger innovation and productivity, as well as anticipating shifts in consumption patterns and consumer needs.
Starbucks, put a focused initiative in providing career opportunities for underrepresented cohorts. One of their initiatives included hiring 25,000 veterans by 2025 as part of their corporate social responsibility efforts. Mid-year 2019, they announced that had met their goal of providing opportunities across their organization to veterans and their families.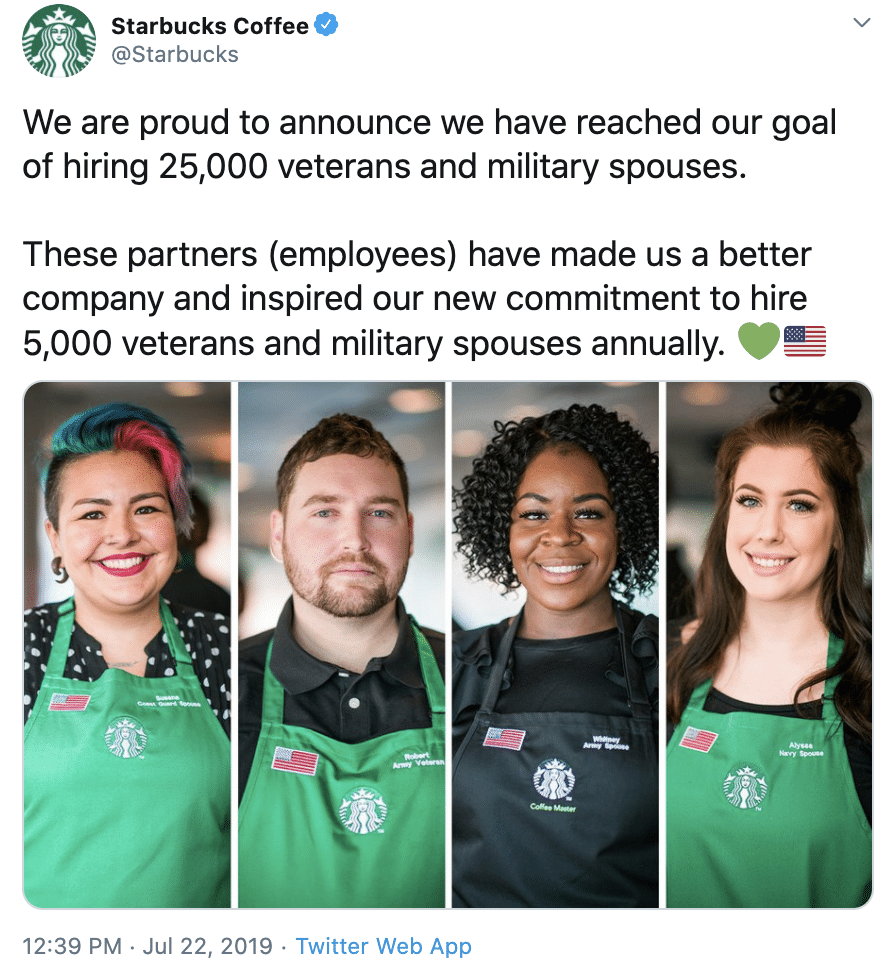 When brands commit to inclusiveness initiatives, tracking it the same way we track all other efforts, with metrics and KPIs; that culture radiates outward and supports a stronger, healthier organization.
Environmental and Sustainability Efforts
Lego® pledged to invest $150 million over the next 15 years focusing on addressing climate change, reducing waste and minimizing their carbon footprint.
They invested in an alternative wind energy sources to power their operations and smashed their goal in just three years of sourcing 100% renewable energy.
To celebrate the milestone, they set a Guinness World Record! The team built the largest ever LEGO brick wind turbine—a 24.6-foot-tall structure made from 146,000 bricks.
In 2010, the National Hockey League launched NHL Green program. The league focused an environmental sustainability initiative to address the effects of climate change and freshwater scarcity on the game of hockey.
They were the first professional sports league in North America to issue a sustainability report. And perhaps more than any other sport, hockey is connected to the natural environment. Relying on freshwater to make the ice, energy to fuel operations and cold climates a tradition of outdoor hockey; a critical component of the game's history and culture.
Since 2011, the NHL has restored approximately 50 million gallons of fresh water to rivers and streams in North America. In 2020, they renewed their commitment to engage fans while ensuring the sport's infrastructure – continues to thrive. Last week, @NHLSeattle announced a partnership with Amazon to name their new arena the "Climate Pledge Arena". An effort to use their platform to commit to carbon neutral games and events.
These brands are leaving their mark on the world and not the planet.
Humanitarian Causes
One of the best known brands investing in corporate responsibility programs is TOMS Shoes. Their mission is to donate a pair of shoes for every pair they sell has resulted in the donation of over 95 million pairs of shoes to children in need. Proceeds are used to assist the visually impaired by delivering prescription glasses. Additionally, TOMS also provides medical treatments, safe drinking water and building businesses to create jobs in developing countries.
In 2006, Pepsi launched Performance with Purpose, an initiative to deliver "sustainable long-term growth while leaving a positive imprint on society and the environment." It includes goals that Pepsi hopes to achieve by 2025 across three areas: products, planet and people. For example, Pepsi plans to reduce added sugars in its products, lower carbon emissions, and create more job opportunities for sustainable farmers. Using the hashtag #PwP2025 Pepsi shares its progress and impact across the globe.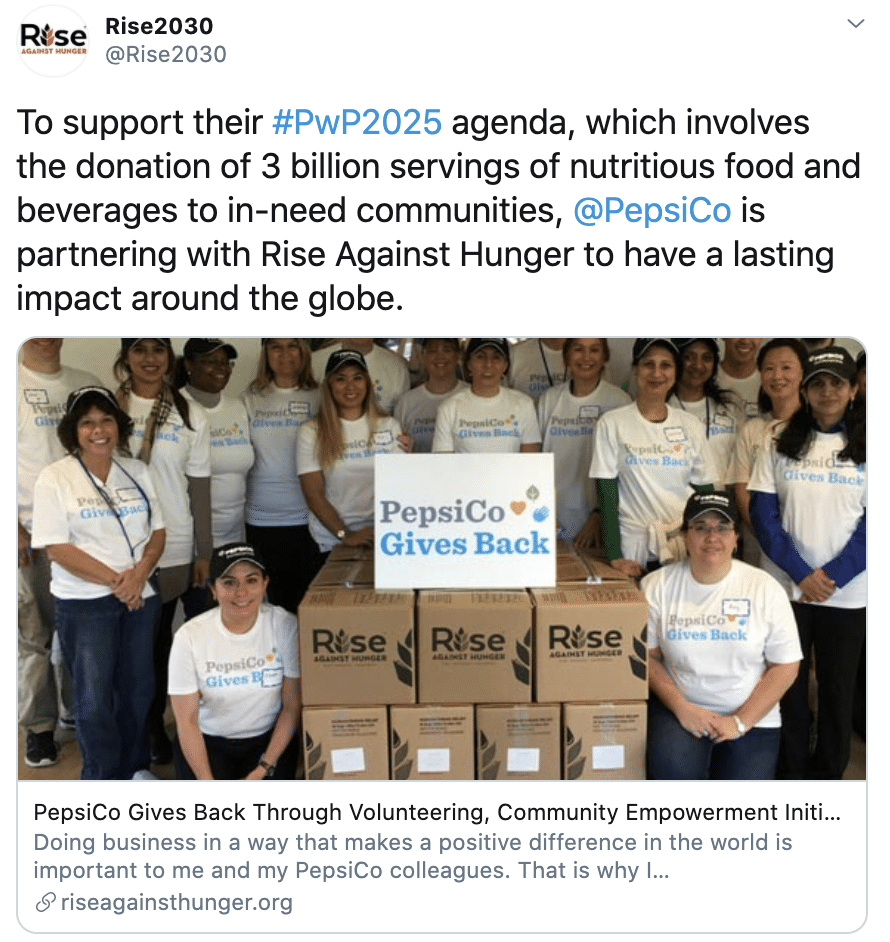 These are just a few illustrations of how companies are using corporate social responsibility.  These efforts help protect the planet and make a commitment to improving the quality of life, inclusive of all. For brands of all sizes, understand the causes your constituents—client, customers, members, attendees—care about and how you can align your teams and advocates to drive an impact internally within the culture of your organization and amplified at a community and global level.
At the heart of it, follow your mission, vision and values. They will guide your brand voice as you align your efforts to become the change you want to see in the world.