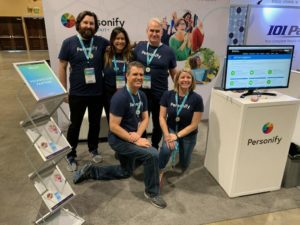 Blackbaud's bbcon 2018 is officially a wrap. While Personify has a long history of partnering with Blackbaud to support their clients' commitment to accelerating social good, this was my first conference and first opportunity to meet a lot of these organizations face-to-face.
It was an invaluable learning experience that not only left our Personify Community team energized, but also provided me, as a product manager, incredible context for the role communities play in the success of these organizations. As I left Orlando, I found myself reflecting on the following three key messages I heard from organizations.
The Power of (Sustained) Emotional Connection
We know storytelling and content experiences create an emotional connection between an organization, their cause and their supporters. Much has been made of how to capture and share these stories: create content that brings your cause and mission to life, and tell the stories to your donors, supporters and volunteers to create emotional buy-in.
But while capturing attention is one thing, keeping the flame alive presents another challenge entirely. How do you sustain that emotional connection? Many leading nonprofits start with community.
Community delivers a shared digital space for people committed to your cause, creating the positive momentum and commitment to your organization and mission.
Community gives organizations an ongoing opportunity to share the right content with the right person at the right time.
Community creates a venue for meaningful, user-generated discussions between your members, volunteers, and donors, allowing them to share everything from best practices around fundraising all the way to discussing the journey that led them to your cause.
Everyone has a story to tell, and community gives them a place to tell it.
Making the Most of Events
We heard a lot about events at bbcon, from large-scale signature activities to more grassroots peer-to-peer efforts. Events represent a huge investment and are often one of an organization's largest sources of fundraising revenue. Making sure these events not only run smoothly but are also optimized to make the highest impact possible is critical.
Communities play a role here, too, with organizations leveraging community to create digital event spaces to build enthusiasm and share best practices. Communities also provide a more practical benefit, relieving staff and volunteers of some of the administrative burden of event production and management. Community spaces can send reminders, share thank-you notes and provide benefits that free up valuable staff time to focus on in-person engagements that lead to a lasting connection with your cause and your organization.
Start With the End in Mind
Start from the end when you design your community. What's your goal? It could be more successful fundraising efforts, it could be higher volunteerism. What kinds of experiences resonate with your user base and allow you to carry over the meaningful experiences your organization has in the physical world into the digital space? Communities create spaces for engagement and communication but understanding how they contribute to an organization's strategic priorities and mission is essential for success.
Additionally, the most successful organizations recognize community is a part of their larger overall technology ecosystem. They take full advantage of opportunities to integrate their community with their CRM or donor management system (DMS). They recognize the importance of pulling information around interests and activities in your digital space back into your CRM, letting you create a full view of a supporter and what drives their passion for your organization. How can you more effectively target them? Knowing what content resonates and creates emotional engagement goes a long way.
As we look towards our Personify Community roadmap for the coming year, these are many of the stories I'll be sharing with our developers. It was a pleasure to talk to, and learn from, these organizations. I hope it's the first in a long series of conversations to come.