A quick look of a few of the best moments from the ASAE Annual Meeting
By Ashly Stewart — Content Marketing Manager

From stellar keynote speakers to fun latte art, the 2021 ASAE Virtual Annual Meeting was one for the books
The ASAE Annual Meeting is THE event for association leaders and professionals to make new connections, forge new partnerships, spark new ideas, and put their strategies to work alongside the best and brightest in the industry.
This year, ASAE continued this much-anticipated event — completely virtually. Like most events in 2020, attendees were excited and curious to see how ASAE would translate all the networking and educational opportunities their annual meeting is known for to a digital space.
We're happy to report that this year's event delivered on the demo opportunities, the engaging sessions, exhibitor experiences, and space for authentic connection that attendees come to expect from the ASAE Annual Meeting.
Here are just a few highlights from the ASAE Annual Meeting that our team loved.
ASAE Day 1 — A day of welcome and recognition
The ASAE Annual Meeting kicked off with a meeting of the board, a full day of scheduled association solution demos, a handful of pre-conference workshops, and a welcome reception for ASAE volunteers.
The first day was interesting because the pre-conference workshops required an additional registration fee and the ASAE Volunteers Reception required an exclusive invite, so not everyone could or would choose to attend some of the first day's events, but it didn't detract from day one because it really put the association solutions front-and-center, and it gave attendees a good look at what to expect from the virtual conference platform.
Day one was the perfect time to set your session agenda for the following week, explore the places to meet and chat about specific solutions, and enjoy the spaces meant for networking and engaging with other attendees.
Standout of the day: We had fun playing trivia in the "Engage & Play" section of the virtual event site. It tested the knowledge we gained by attending the Community Pop-UP lounges that highlighted select cities like Cleveland, Ohio, and Puerto Rico.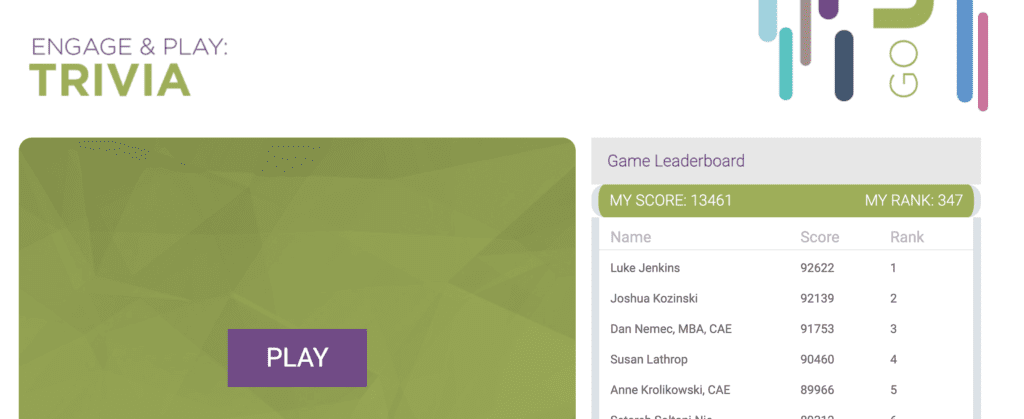 ASAE Day 2 — Moments of reflection and action
In a recent Pewter Research Center report, one woman gave a positive view of the health and societal struggles of last year by saying,
"It's good to see how people come together in moments of crisis. Working together to ensure that we all stay safe and healthy."
But in the same report, another woman answered the same survey with,
"People are weird and untrusting of others, social gatherings are nonexistent and the stupid masks are ineffective and just plain suck. I am DONE playing this game. DONE!"
These two different sentiments and different realities reflect the confusing world we all have had to navigate, including associations and nonprofits who must serve members who represent, maybe even loudly vocalize, their conflicting opinions.
Trying to reconcile the two opposing viewpoints of the pandemic and our country is what the opening keynote speaker, Baratunde Thurston, miraculously does so well. His eloquence, humor, and authenticity shined, and it's no wonder he's been nominated for awards for his work on notable shows like The Daily Show, advised the Obama white house, and wrote the New York Times bestseller, How to be Black.
Barantunde gave attendees a real view of his world while also giving us practical steps to take to affect change. It was a moving and inspiring start to an event for people who make change and advocacy their business.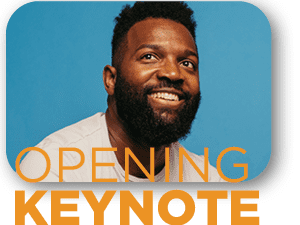 I could write all day about Barantunde's opening keynote, but I also want to point out how ASAE set a tone of celebration by showing acceptance videos from the individual award recipients.
Later in the day, Personify's Mark Sedgley and AMR's Amy Thornburg continued the focus on building relationships by offering a quick roadmap to attracting new members and forming lasting bonds with existing members for modern associations in their session, "3 Keys to Success for Modern Associations: Relationship-Building Secrets That Drive Acquisition, Engagement, & Retention."
We also attended a notable session called, "Let's Declutter! How to Simplify to Deliver User-Centered Digital Experiences," where speakers Sandy Marsico and Laura Chaparro gave us five steps to enhancing members' digital experiences by cleaning up and polishing off our digital journeys.
Standout of the day: Learning about Barantunde's podcast, How to Citizen with Baratunde. We'll definitely be tuning in for more of his perspective of what it means to be a good resident and neighbor of our communities.
ASAE Day 3 — Impactful sessions and latte art
Tuesday's highlights were sessions that offered real use cases with clear calls to action. They also offer a look into how other areas of culture and society can inspire the programs and benefits we offer our members. And we took a break by feasting our eyes on some beautiful latte art!
Starting with the use case that has stuck with us, in the session, "How Live Education, Video Networking, and Analytics Created a Successful International Conference," speakers Joanna Pineda, Gretchen Steenstra, and Elise Kuurstra (a panel made up of strong, female leaders, I'm proud to say) dove into what made The European Association for International Education annual conference — that went fully online this year — so successful.
They shared so many good tips with us, but the biggest takeaways were that they gathered a full picture of their attendees' behavior from past events with good data at their side, which allowed them to form a plan around their mantra, "Reinvention not replication."
We also learned in the session, "Paving the Way: A Central Park Analogy for Online Communities" led by Kara Adams that New York City's Central Park is a perfect lesson in listening to what the people who are actually using your space want rather than following trends. It's difficult to imagine that the beloved park was initially reviled by critics because it didn't look like the manicured European parks that were all the rage at the time. Instead, park planners put New York residents' needs and requests at the forefront and built a park that reflects their lively, active community. The session was a great reminder for the many associations and nonprofits that are exploring ways to launch a thriving online community.
Standout of the day: The Partner Playground was a great way for members to connect with solution partners in a casual way with partners hosting live music events, ice cream socials, latte art, and more. The Personify team gathered to learn about the history of coffee and see our new brand logo over a cup of coffee.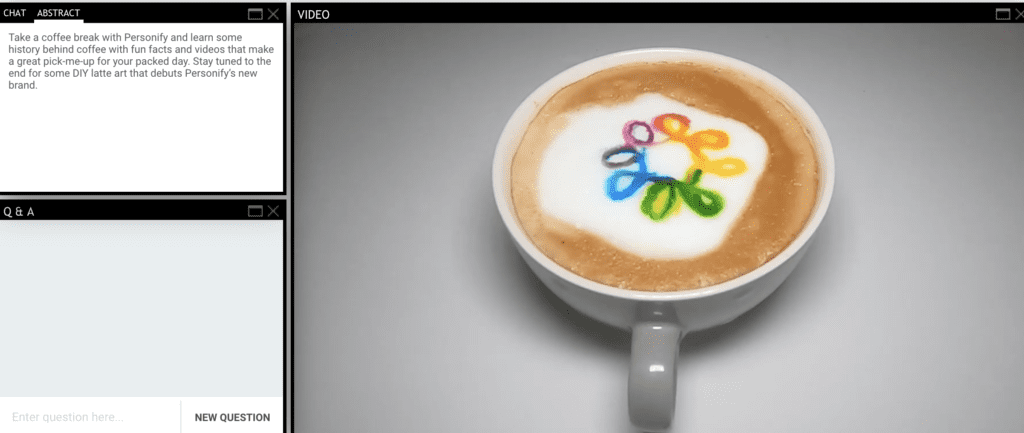 ASAE Day 4 — A call to live interdependently
The last day of ASAE emphasized hot topics like ethical marketing and the magic that happens when you combine the human touch with clean data. And, of course, everyone was looking forward to the bittersweet closing of this year's meeting with Michele L. Sullivan, a Fortune 100 business executive, motivational speaker, and author of the book, Looking Up: How a Different Perspective Turns Obstacles into Advantages."
The last day's session that stood out to us was "The Association Algorithm: Leveraging Data with a Human Hand" hosted by Aimee Pagano. I admit that I was drawn to this session as a marketer, but as I listened to the session, what stood out the most is how important it is for marketers and association professionals to ethically harness the power of data that we use to understand and communicate with our members. Member data seems like an old concept now, so it's easy to become numb to the fact that we know a lot about members. We should always be thinking of ways to view them and reach out to them with respect and with their best interests in mind.
Finally, the day and the event closed as Michele spoke openly about turning obstacles into advantages. A timely topic as we've lived through a pandemic for over a year. And it's an especially appropriate topic for Michele who was born with a rare form of dwarfism.
Michele used her vulnerability (she shared powerful pictures of her and her family's journey through her surgeries) to describe the advantages she has gained in overcoming obstacles related to her disability. She encouraged us all to employ active listening, take care of ourselves as leaders, and take an active role in our skills and development.
Michele's call to anticipate change and live an interdependent life — not necessarily an independent one — has stuck with us long after the closing keynote.
We'll see you at next year's ASAE Annual Meeting
The ASAE Annual Meeting may have been different from previous years, but it was still engaging, valuable, and a bright spot in our week. The Personify team enjoyed connecting with attendees and learning from the leaders of our communities.
If you missed the ASAE Annual Meeting this year and didn't get to see the big reveal of our new brand, check out our announcement of all the new things at Personify.
And if we can help your association and nonprofit build stronger connections and deeper relationships with your members, please reach out. We'd love to talk with you.