The 2023 ASAE Annual in Atlanta, GA was a show like no other. To sum it up quickly, we met a ton of amazing association professionals, partied hard and left very tired. This year's theme was 'Shape Your Purpose' celebrating how each association defines and expresses their organizational purpose. In many ways, the theme resonated right up through ASAE whose purpose is to bring association professionals together in the most exciting and meaningful way possible.
Our team enjoyed meeting attendees at the Personify booth, in the Small Staff Lounge, at our annual Shindig and various other events. We thought the best recap for 2023 would be to hear from our team about their favorite moments. 
ASAE Anecdotes from the Personify Team
Rich Vallaster, Director, Marketing at Personify
Five days in Atlanta for ASAE and five key takeaways from this year. 
1. Events are back! ASAE did a phenomenal job creating surprise and delight as part of the experience. I kept saying to myself, you can't make these experiences in an online world. It is why events are roaring back. For example, I was excited to hear Wolfgang Puck's company would cater the VIP reception. The true surprise was the opportunity to meet and talk with him (see photo below). Congrats to the #eventsprof team for creating memorable experiences. You impressed this #eventprof.  
2. #events are on the mind of every #associationprofessional (regardless of their role or title). As a significant revenue driver, everyone wanted to discuss improving and growing them this year and beyond. Thanks to everyone who I had conversations with. It was also great to see so many familiar #eventprofs this year.  
3. While the session I co-spoke on this year was about working smarter and not harder – people, process and leadership in uncertain times are top of mind. With teams smaller in the post-pandemic world, creating "optimized" associations and partnering with #associationmanagement companies (AMCs) are critical to growth and long-term sustainability.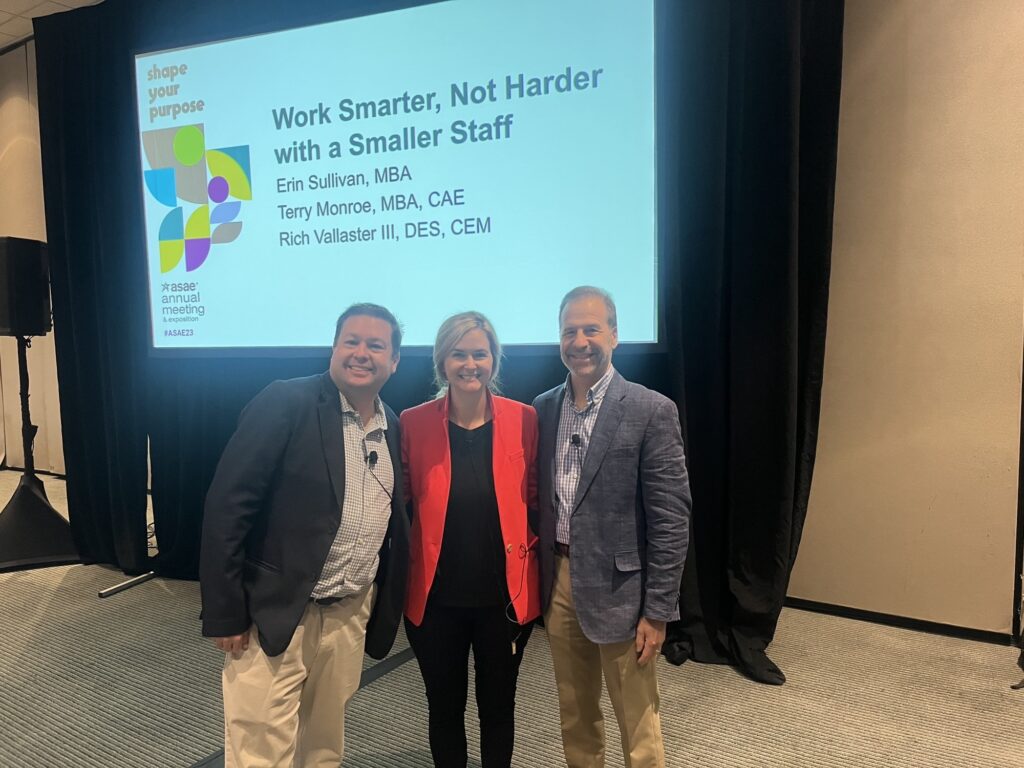 4. Changing demographics and persistent search for attracting new and young members remain challenging for most #associations. Moving beyond traditional media, creating experiences and understanding the value that younger members seek will be critical.  
5. #DEI, #ESG and #Sustainability are more theory and planning than action and outcomes. While it is great to see it being discussed, much more must be done.
And much like this year's tagline, "Shape Your Purpose," – #Leadership and boards with a solid strategic vision will be needed to achieve growth. 
Cindy Orna, Account Executive at Personify
My favorite part of 2023 ASAE Annual was getting to chat in-person and shake hands with clients I've worked online with for years.
Ben Cunningham, Sales Development Representative at Personify
This was my first time attending ASAE, and I will say I was blown away with how big of an operation it is. My favorite part was meeting current clients in person and learning how our products have helped their associations grow. 
It was fun to hang out with our clients at the small staff reception and enjoy drinks with them at the Shindig Sunday night.
Kyle Robbins, Account Executive at Personify
TLC put on an amazing show for the opening reception, but the best part of those events is catching up with clients or AMC partners and having the opportunity to share a laugh or a story with them as real people over a drink and shared experience.
There is no shortage of laughs and entertainment when the Sales and Marketing teams join forces – especially for these big events – everyone brings their A-Game. However, watching Rich Vallaster work his magic getting attendees engaged and laughing at our booth is always a sight to behold. Rich's energy is unmatched and he's a phenomenal representative of Personify and our values.
Michael Laiacona, Senior Technical Account Manager at Personify
It was great being able to catch up with old friends in the industry and meeting new prospects. This was the 2nd year back at ASAE Annual since COVID, so it's just always great to meet up with everyone in person.
One of the most exciting moments… I was one of the four that got to attend the ASAE Foundation Classic event which was catered by Wolfgang Puck. He was actually there and I was able to meet and take a picture with him. As a foodie, it was a really nice surprise.
That's a wrap
If you chatted with a Personify team member and want to follow up, just give us a shout on this form and we'll be in touch. Otherwise, it was great seeing you all, thank you to ASAE for the work you do and we'll see you next year August 10 – 13, 2024 in Cleveland, OH for ASAE Annual 2024!