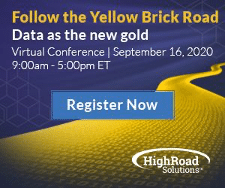 This is a guest blog post by Adam Higgins, Director of Technology, at HighRoad Solutions.
Data-based marketing is nothing new. All marketing is based on some data. Before you reach out to any audience, you have to know a little about what makes them tick.
And everything you know counts as data. Their likes, their dislikes, their needs, their preferences. Their goals and the obstacles to their goals. All of these are data points that will help you produce a targeted, effective method.
The only thing that's changed is that there's a lot more data around these days. We know what people read on our website, we know if they open our emails, we even know if they put something in their e-commerce shopping cart but didn't click the Buy Now button.
All of that data can help associations to meet their marketing goals, whether that means recruiting new faces, or strengthening bonds with existing members. Here's how to turn association data into conversions.
Establish your goals
Before you get started, think about what you're trying to achieve. Your objectives will define your strategy and help you decide which data to focus on. Common goals for associations include:
Recruitment: Acquiring new members, especially those who are new to the profession, such as recent graduates.
Retention: Encouraging current members to renew their membership by communicating the value of the association.
Engagement: Helping members to find relevant programming, thereby strengthening their relationship with the association.
Data gathering: Learning about current members and potential future members, as well as the general industry trends that may shape your future plans.
You'll also need to establish accountability for achieving these goals. Ask questions like:
Who will own the data in terms of reaching objectives?
Who will analyze and make recommendations about the data?
Who will own the integrity of the data?
Who will organize the data in a way that supports the execution of marketing plans?
Knowing your goals is important at every stage in this process, but especially at the end. When you've got your marketing campaign up and running, you'll compare your outcomes to your goals and see if you're where you need to be.
Understand your data
Most associations have a ton of member data available to help guide marketing projects. But before you can use it, you have to understand it. Association data falls into four primary categories:
Demographic data: This is basic descriptive information that relates to an individual, such as their job title, location, age, gender, and educational background. Demographic data can often be found on application forms, such as membership applications, and conference registrations.
Firmographic data: This data is similar to demographic data, except it relates to the individual's employer or firm. Firmographic data includes the number of employees, annual turnover, office locations, and management structure. This data can be found on the same application forms that provide demographic data. Most of it will also be publicly available, either from the company website or local business registries.
Psychographic data: This kind of data digs a little deeper and tells you about what makes the person tick. What are their goals? What obstacles do they face? What are their motivators when making a decision? Some of this information can be revealed with sophisticated data analytics. But you can also obtain psychographic data the old-fashioned way—by talking to people. Surveys, interviews, discussion groups, and face-to-face conversations are the best way to obtain this kind of qualitative data. All of this can be collected while building your personas.
Behavioral data: Finally, behavioral data reveals how people interact with your programming. What documents do they download? What videos do they watch? Do they read your emails and click on the link? What kind of conferences or webinars do they attend? You can obtain this kind of information using digital tools like email automation, marketing automation, and web tools.
Many people make the mistake of thinking that demographic data is the be-all and end-all of data analytics. It's certainly important, but all relevant information is needed to help you better understand your members.
Integrate your data sources
You might have great data, but your project will struggle if it's not all in the same place. Data integration is the process of harmonizing all of your data across multiple sources.
For associations, the main pillar of the data infrastructure is often the AMS (Association Management System). This system hosts much of the data about individual members, and it can collect information from other systems, such as Event Management Systems, Learning Management Systems, and e-commerce portals.
Other systems will hold other types of data. For example, your marketing automation and email automation platforms will have rich behavioral information related to any interaction or activity. Your Customer Relationship Management (CRM) System, often integrated with your marketing automation platform, will track any interactions related to sales or customer service.
To achieve full integration, you need a full-stack audit of all available data systems. Often, you'll need to bring in an experienced consultant to help manage this. The important questions in any integration are:
What data do we have?
Where is that data stored?
Are there clashing versions of data across multiple systems? If so, how are conflicts resolved?
Do analysts have access to a complete and recent version of all relevant data?
Think of data like water. You need the right pipes to ensure that the data flows from one place to another, providing a constant stream of fresh information.
Build a segmentation strategy
Your audience contains identifiable sub-groups or segments. If you understand your segments, you'll understand the people within those segments.
For example, imagine you identify an audience segment based on existing data. This segment is:
Mid-career marketing managers
10-15 years' experience
Works for a large firm
Aspires to become VP of Marketing
Relies on the association for conferences, networking opportunities, and chances to volunteer
From now on, when you make contact with someone who fits this description, you know what they need. You know that they have big career goals, and you know what kind of programming they're looking for.
This is the basis of your segmentation strategy. A full segmentation plan looks like this:
Create a member matrix: Analyze the data and build a set of personas that describes your members. These personas form a matrix, which should cover the majority of your member base.
Segment by persona: Use data techniques to match individuals to their relevant persona. If you're working with new leads, you can use progressive profiling techniques to build a picture of the individual and ensure they're matched to the correct persona.
Map relevant content: Find the content that will interest and delight each persona. What topics are they interested in? Do they need education? Certification? Networking opportunities? How can the association create value for them?
Build a personalized journey: The actual sales journey can be mechanized with a good digital automation platform. This software will make sure the leads get the right message at the right time. But you still have to plan the structures of these journeys with care. Think about emails, content, goals, and consider branching options for dynamic sales journeys.
Remember, every single journey is a chance to gather more data. Even if a lead fails to convert, you've still learned something that can help you get it over the line next time. Marketing automation needs to be an ongoing, iterative process that responds to new data as it emerges.
Measure your success
 Now it's time to compare your results to those objectives from the start. To do this, you'll need some metrics. In analytics, these metrics are often referred to as Key Performance Indicators or KPIs.
Common association KPIs include:
Conversions made, such as new member signups
Survey scores
Evaluation results
AMS Engagement Scoring
Community interaction, both digital and in-person
Website interaction
Campaign interaction
Customer experience interaction
Social media interaction
Quality of leads, according to lead scoring
Ideally, you should define your KPIs at the beginning. For example, if your goal is recruitment, then decide whether to look at gross or net new members, and whether you're focusing on a particular demographic. If your outcomes match your goals, you're on the right track.
Keep gathering data
Remember, every interaction is a chance to gather precious data. If you use the right automation software, you can collect information while implementing high-value campaigns.
There are two key automation platforms that associations use: marketing automation and email automation. They can each gather data in the following ways:
Marketing automation:
Awareness campaigns
Lead generation campaigns
Influencer campaigns
Campaigns converting customers to members
Sales-enabled campaigns
Insights campaigns
Email automation:
Member onboarding communications
Renewal communications
Promotion of relevant programs as part of member promise
Sponsored communications
All of these campaigns have clear outcomes that benefit the association. They also involve marketing communication with leads and potential new members. Each interaction will provide you new information about what your audience wants, what it doesn't want, and what it wishes you would do differently.
Want to hear more about leveraging data for growth?
Watch our On-Demand Session for Follow the Yellow Brick Road – Data as the New Gold.