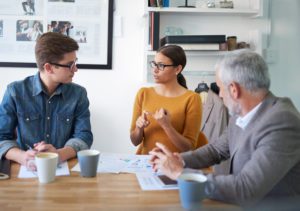 What started as a buzzword has become the new normal in virtually every corner of the technology world. For some, the switch is quite simple. For others, like member-focused organizations who have relied on on-premise solutions to house and manage their member data for years, the decision to move to the cloud can be more difficult.
But, while it may be quite an undertaking, there are several worthwhile reasons that organizations should carefully consider making a move: 
1. Flexibility
,
M
obility
 and 
I
ncreased 
A
ccess
A cloud-based architecture allows an organization to have increased collaboration and knowledge sharing, making for more efficient and effective means of communication. In your organization, you may use Microsoft Teams, Google Docs or another cloud platform to share and collaborate on documents with your team. I remember—not too long ago—having to share a document with a team for their input and then consolidating edits from each individual document into the master version. This process now seems completely archaic. However, if you're using an on-premise version of your association management system or CRM, you may be lacking the flexibility to collaborate with your colleagues, easily share files and look up or update members' information on the fly.
Additionally, a move to the cloud version of an AMS enables an organization to have bi-directional data sharing with their best-of-breed tools such as their marketing automation platform, learning management system and more. An on-premise AMS means that your IT team needs to build a one-off integration each time that you add a new piece of technology to your tech stack and, in many cases, this means dual data entry. If you're interested in bringing flexibility into your system and ensuring seamless data sharing, check out our Integration Platform as a Service (iPaaS) guide. 
2. Real-Time Updates
One of the things that truly brings me joy is to speak with our clients who are considering a move to the cloud and to see the mind-shift that occurs when they realize that there's no longer a need to go through an expensive and time-consuming upgrade process every few years. Upgrades and implementations can be challenging and disruptive to your daily operations, and it's critical to be able to maintain system processes for your membership while you're upgrading the whole system and training staff on the changes. 
A cloud–based AMS means that you receive updates automatically and they typically don't involve any additional cost, meaning that you don't have to approach your board of directors for budget approval every other year.   
3. Security
Data breaches are certainly top of mind for many organizations these days. From the Facebook data breach that exposed more than 540 million user records to the Equifax breach that raised the risk of identity theft for millions of U.S. consumers, member-based organizations need to thoughtfully consider how to reduce the risk of their members' data being exposed. Data breaches erode trust in organizations, hurt revenue and create legal liability for organizations of all sizes. 
According to Breach Level Index, more than 6 million records are compromised via data breaches every day.  
If your organization is in an industry with increased compliance oversight, such as healthcare, government and financial services, you need to be even more concerned about the possibilities of a data breach and create strategies and employ tools to safeguard your data. While they are not fail-proof, cloud-based solutions and tools are typically more compliant and a move to the cloud can help remove the burden from small IT teams whose focus and priority may not be data security.   
4. Cost (
both human capital and cash) 
According to Gartner's IT Budget report, healthcare companies often spend nearly 75% of their IT budgets to maintain internal systems. Yes, really. These organizations spend a majority of their budget, not on investing in tools that increase efficiency and innovation, but on maintaining current systems and processes. 
Whether you work in healthcare or another sector, organizations can often get caught up in the upfront price of software and fail to understand the total cost of ownership that includes support, additional hardware, training and more. A cloud-based option allows you to pay for the resources that you use and, at the same time, take advantage of scale and reliability—two things that most companies can't afford internally.  
By leveraging a subscription model, which nearly all cloud solutions use, an organization's cost is spread out over time, which makes the line item in the budget an easier pill to swallow. 
Beyond the sticker price, it's important to consider human capital. Member-based organizations and associations have limitations on their internal resources and typically, their small IT teams are spread too thin across the day-to-day maintenance of an on-premise solution, including:  
Uptime availability 

 

System performance and speed

 

Data loss

 and security

Maintaining 

satisfactory

 turnaround 

times 

on 

misc. 

issues and requests

 
Want to understand more about the benefits of what a cloud-based or SaaS product can do for your organization? Contact us to learn more about Personify360, a SaaS solution that provide a seamless experience for an organization's staff.