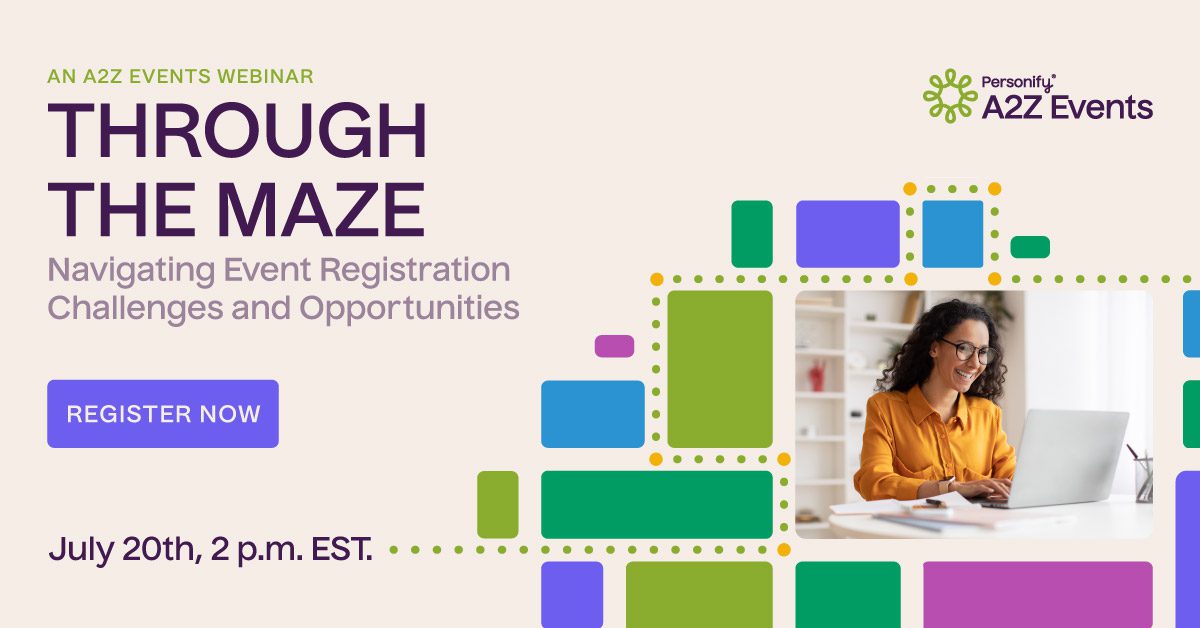 Are you tired of the complexities and challenges that come with event registration? Are you ready to streamline your registration process and deliver a seamless experience for your attendees? Then join us for our upcoming webinar, "Navigating Event Registration Challenges and Opportunities" on July 20 at 2 p.m. EST.   
As industry experts, the team at A2Z Events by Personify has conducted extensive research into the common challenges faced by organizations managing event registration. Our research project involved surveying over 300 organizations from various industries, managing registration for at least one event annually. We drew upon these findings to identify the key trends and common challenges faced by event professionals throughout the registration process.   
Through our research, we discovered that ease of use is imperative in registration processes. Attendees want a simple and straightforward registration process. We also found that social media reigns supreme for registration promotion, and protecting attendee data is a top priority.   
But what does the future hold for event registration? We believe that the future is in mobile and personalized experiences. Attendees are looking for more personalized experiences, and the use of mobile devices is on the rise.   
During our webinar, we'll discuss these findings in more detail, and provide you with valuable insights and best practices to help you deliver a successful registration experience for your attendees. We'll also cover the top challenges faced by event professionals, such as technical glitches, and provide you with actionable steps to overcome these challenges.   
Learn all 10 key trends, data, and insights to optimize your event registration processes as A2Z Events by Personity's Trade Show Wonk, Rich Vallaster, DES, CEM discusses this latest breaking research and considerations as you put on your trade show or event. Register now to secure your spot!