Game Changers
FTK® Nation online community saw 5.5x increased impact in fundraising
The Four Diamonds' online community, inspires and engages students in the fight to conquer childhood cancer
Four Diamonds at Penn State Children's Hospital is leading the fight against pediatric cancer. As a year-round fundraising program, Four Diamonds Mini-THON® is an opportunity for K-12 students to get involved in philanthropy and engage their school and local community. The team was looking for ways to better support and engage Mini-THON student volunteers and advisors and to increase fundraising beyond the reach of in-person events. Given the demographics of their student volunteers, Four Diamonds was quick to identify Personify Community for its social sharing and peer-to-peer digital advocacy as a valuable communication channel to advance their community fundraising effort. Using the Personify Community the team increased the impact of their fundraising efforts:
5.5x increase in funds raised for those participating in the FTK® Nation community
352% increased impact for student volunteers involved in FTK® Nation
$7.2M+ raised during the 2018-19 school year
$43M+ raised through Mini-THONs® for the Four Diamond mission since 1993
"The FTK Nation community has amplified our fundraising efforts and become a destination for engagement in the Mini-THON® program year-round. Our fundraisers rave about the connections and friendships they make through the community and this program that extend well beyond the 24- hour event" said Michael Ringenbach, Associate Director for Four Diamonds at Penn State Children's Hospital.
The impact of the FTK® Nation community has been significant in driving fundraising efforts for Four Diamonds Mini-THONs, and as a result, they have also increased the number of participants who take advantage of the community because of its benefits to volunteers. Four Diamonds has leveraged this information to continue fostering a digital-centric culture with their outreach efforts, adding a virtual fundraising hub within the community in 2020 to offer resources, support and opportunities for engagement in the wake of social distancing efforts across the country.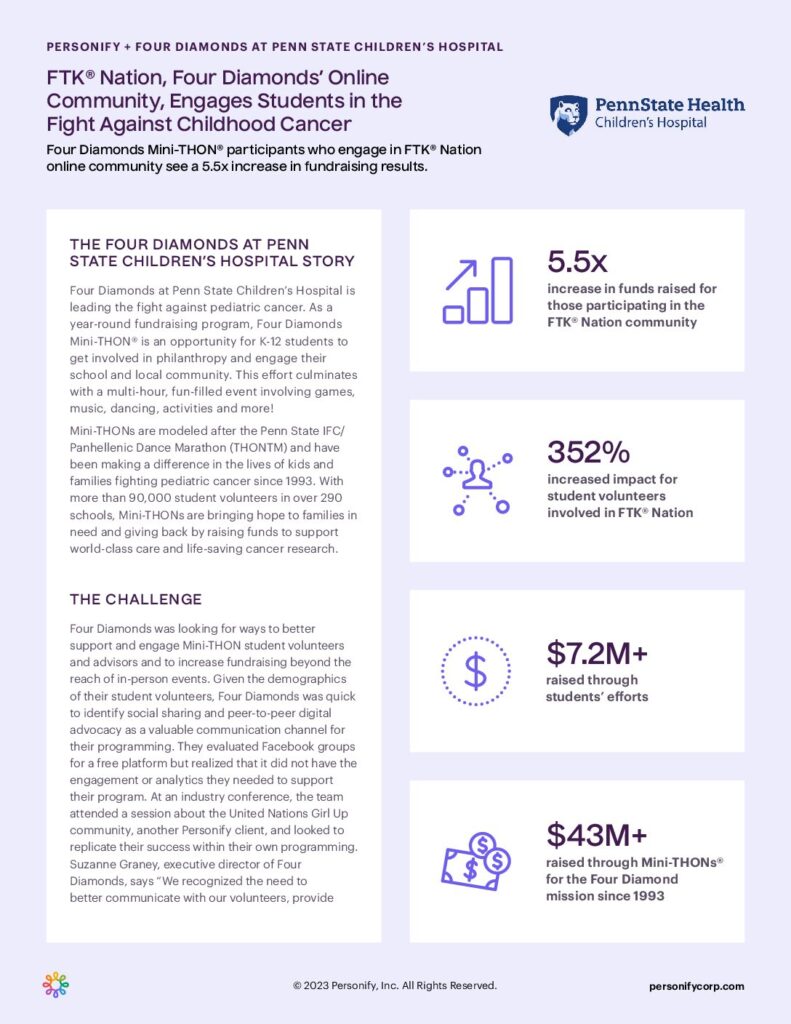 Download Now