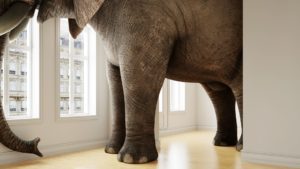 With the recent CDC modified masking recommendations and venues around the US announcing total openings, it is becoming more apparent that in-person (or hybrid) events will rebound more quickly than initially expected. Event organizers are scrambling to not only secure locations and venues but understand the technology and execution of hybrid events. And for insurance and contingency planning, many also create virtual backup options should the landscape suddenly shift again. While this is undoubtedly expected (and necessary), the discussions seem to be avoiding the "events elephant" in the room–events revenue.
2020 was crippling for many associations, organizations, and independent show organizers. The roughly 15 billion (pre-pandemic) US trade show industry is now a third of what it was, currently at 5.6 billion dollars. CEIR reported that a virtual event typically only generated approximately 30% of the gross revenues than the most recent affiliated physical event. These reduced event revenues, along with other business forces impacting revenue, is simply unsustainable. Our recent study further highlighted how critical events are for organizations and associations since many reported that historically 40-80% of their revenue comes from events! As the country opens and the final round of the Paycheck Protection Program funds are depleted, organizations will be forced to generate cash flow from their activities without the support of further government assistance.
So Why is Everyone Avoiding the Revenue Discussion?
The US and many parts of the world are still in a pandemic – some places even on lock-down. Organizers are struggling to strike a balance between recognizing current conditions and, at the same time, pushing forward as a revenue-generating event (or business). On top of that, many of these professionals must consider the additional risk factors in organizing and planning events for the first time in their career. Organizers may have children, family members or themselves may not be eligible to get a vaccine. Some may also not want to vaccinate for personal reasons. These increased personal risks and choices may come at personal odds to professionally open an event at full capacity, let alone driving revenue through these increases of in-person activities.
I recently traveled to the SISO CEO Summit myself and had to balance my personal well-being with the need to move forward for the events industry. As I shared in my blog about the experience, I not only felt safe as a vaccinated individual, I realized this was the direction we (as an industry) were moving quickly. Even at this smaller event, from the flight crew who genuinely thanked us for flying to the drivers who brought me to and from the hotel to all the event and hotel staff, the economic impact could be felt.
While associations often advocate, educate and solve global problems, the organization must remain solvent. For that matter, every organization, including nonprofits, must remain solvent to continue to provide jobs and accomplish their missions – and many of them do this through events.
And It's Beyond Just the Events Industry
The fear to recognize that events (and their organization) must make money to survive is only one side of the equation. We have to celebrate that our events generate revenue for not only industry jobs, but for those who support the industry as well. From every rideshare driver to a restaurant near a convention center, those businesses and staff also require a return to in-person and hybrid events. Each event can often bring millions of dollars to a city in just a few short days.
So, it is time to start talking about how the industry can collectively generate higher revenues through 2021 and beyond!
But Wait…Can In-Person Events Be Safe While Still Making Money?
Of course! As I shared in Trade Show Executive Magazine, before organizers try to boil the ocean by creating vaccination event bubbles (which are impossible given the size of the events ecosystem), we need to realize that the CDC has provided us clear guidance on how to interact with the public safely. From our local grocery store to a trade show, it will be up to the individual to decide how to manage (participate) and mitigate any risks associated with the activity. We will be mixing with the general public as we move to the "new normal." Events will be a part of that equation and we must start to recognize that.
I also understand there is still unknown and discomfort in this new reality. For many, we just somewhat figured out how to "virtual," and now we have to "hybrid" with little to no experience with that either. While I shared in my webinar, hybrid will be different than originally envisioned, many will still participate virtually while more and more will attend in-person. Those additional revenues will help make up for likely smaller revenues generated from the in-person events. While many in-person sponsorships and exhibitions may be smaller in 2021, the margin on these activities will further support a revenue return – all while conducting events safely.
Will the Demand Be There if We Meet In-Person?
Understanding and surveying your audience frequently is key to understanding how your event(s) will perform in this new climate. Nationally, Freeman continues to track the sentiment of event audiences. In their most recent update, 85 percent of attendees and 86 percent of exhibitors expect to return to in-person events by the winter of 2021. And while this survey was conducted shortly before the change in CDC guidance, fall return data came in at 74%. The numbers will likely increase during their following survey given the recent changes in guidance, growth in vaccinations and more states opening up venues and restrictions.
Personify A2Z Events clients have anecdotally shared their in-person events generate overall higher NPS (Net Promoter Scores) from both attendees and exhibitors. Those attending events are highly engaged with all levels of the event, from education to conducting business with exhibitors and sponsors. It only makes sense this channel was forced online for over a year. As retail and many other industries have shown, the pent-up demand point to a stronger than expected recovery in most sectors.
So Where Do Should I Start?
It's no easy task to fundamentally shift back to what we were doing with such frequency and expectancy just a little over a year ago. We must recognize much has changed with how we consume, travel and venture outside. We must change everything from our messaging and marketing to how we sell to exhibitors and sponsors as we return.
It is why we created the first-ever, Events Revenue Summit!